2012 Ford Focus Summary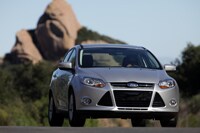 The all-new 2012 Ford Focus looks, feels, and smells like the future, but it's a mixed bag of function. The engine is super smooth, but the automatic transmission programming feels quirky. The fabric seats are super and the wraparound cockpit is cozy, but there isn't much rear legroom. It's the technology leader in the compact car class.
Sam Moses filed this NewCarTestDrive.com report from Los Angeles.