2012 Ford Focus Walk Around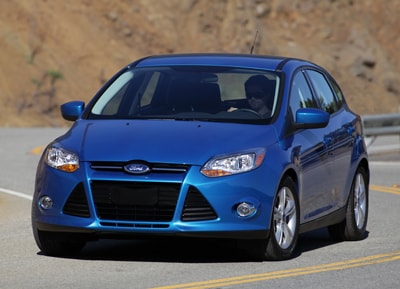 The all-new Focus looks like a big Fiesta, with an unmistakably Ford shape. The new Hatchback is especially aerodynamic looking. The Focus spent 1000 hours in the wind tunnel to get its sleek shape and low roofline. It yields a 0.295 coefficient of drag, an improvement by nearly 8 percent over the previous Focus. Active grille shutters block airflow to the radiator when it's not required, which improves aerodynamics and fuel mileage. NASCAR racers did this with cardboard and duct tape for years, but now it's fully electronic; the shutters have 15 different positions, based on engine temperature. Other cars such as the new Chevrolet Cruze are doing it, as well.
Ford calls the distinctive grille split trapezoid. Fortunately, the grille is black and not chrome and in-your-face like other Ford models. There are eight thin horizontal bars in a huge-mouthed trapezoid whose wide side is the bottom and is divided into three segments by two body-colored vertical bars like catfish chin whiskers. It looks better than it sounds, balanced by a horizontal opening above it, with one thin chrome bar and a neat blue Ford oval. The long thin trapezoidish headlamps wrap forward and downward from the cheeks of the car. They're like sweeping dragon's eyes, says Ford in their best metaphor yet.
Sculpted lines at the sills and door handles flow back from neat modest flared front fenders to give the Focus a forward-moving slant: kinetic design energy, Ford calls it. The windshield is steeply raked and roofline steeply dropped to the liftgate glass, making about as much of a teardrop as a chopped hatchback can be. The side window outline is shaped like a picture of smoke traveling over a sleek car in a wind tunnel. Big vertical taillamps are nice and safe and Volvo-like.
The Focus SE looks cleaner, we think, lacking chrome beltline trim. The 17-inch Titanium wheels are multi-spoke wagon wheels, better looking than the optional 18-inch wheels that are like big chrome stars with thin prongs.
The all-new Focus chassis is 30 percent stiffer. It uses a crash structure designed for the larger Taurus. More than 55 percent is high-strength steels, including Boron B-pillars and front beam, and a decoupling powertrain cradle to keep the engine out of the cabin in a head-on crash.
Interior
Ford has been very ambitious the last few years, engineering-wise, and it shows. It shows in the interior of the Focus. It's as if they took everything on their to-do list, and stuffed it in the cockpit. It's as busy as they are.
But ambition is good. Because Ford went all-out with the new Focus interior, there are some great things, starting with the standard seats in sturdy fabric, and the leather-like seats in the SEL. Too bad the new Chevrolet Cruze doesn't have seats like the Focus; if its interior matched its great handling and engine, there might be a good GM-Ford battle in an important segment. Oh, it's good anyhow.
The word cockpit when used with a car is an awkward fit. But not with the Focus. That was the way it was designed, to feel like a cockpit. With all its bells and whistles, geeks will love it, drivin' down the highway feelin' like a pilot, all those switches right nearby, LED ambient lighting in a choice of seven colors to suit his or her mood, controls that feel like they wrap around to the elbows on the centerstack, displays to set and adjust with dials and buttons, readouts to read and scroll through, maps to follow, touch-screens to touch, voices to talk to, giving commands and following directions. All right there at your fingertips and the ends of your over-reaching brain tentacles. Like Facebook, Focus offers you a choice of moods!
It would take a full page to describe the MyFord Touch powered by SYNC connectivity system that Ford is touting with its new cars. It uses twin high-resolution screens, including an 8-inch touch screen in the center console, to communicate with your car. The driver uses three of the five senses: see, hear, touch.
Ford says it's designed to be simple and completely intuitive for the driver, and maybe it is, but that doesn't mean it works that way. Ford says the system can empower drivers without demanding their attention, but baloney we say, about the attention part.
After touting how simple it is, Ford press materials use 380 words merely to describe the system's capabilities; it would take us twice that many words to describe and even briefly critique it.
Here's our short version. During Ford's presentation there was an electronics company rep there, and MyFord Touch powered by SYNC didn't work without trial-and-error for him. During part of our drive of the Focus, we had a high-level Ford rep with us, and the voice command for navigation and climate control didn't understand him any better than it understood us.
We borrow this statement from another online review: "Most buyers won't even begin to fully utilize the system, but Ford is seeing a big jump in sales due to the perceived value in such technology."
We wonder (and worry) about the consequences of that word perceived when the perception wakes up to reality like it did with gas-guzzling SUVs.
The dashboard and instrument panel are of course all new too, and the gauges that are in front of the driver's eyes are easy to read: big tach and speedo with cool blue needles, fuel and engine temp between them, and easy-to-read digital info above the fuel and temp. The soft materials are clearly high quality, while the hard materials look slathered on: for example four big vertical vents that rival the giant grille in in-your-faceness, and thick shiny trim that lines the edges of the centerstack, console, and thick horizontal spokes of the steering wheel. However, we didn't drive the base S model, so maybe it's got a more Spartan interior missing the overkill trim. We have no problem with the optional piano black trim.
Or the WiFi when parked. Now that's real progress.
There's an optional EcoMode system that uses a flower graphic on the instrument panel that tells you how to drive more efficiently. Woohoo. We bet even people who think that's neat will lose interest, after they've seen and applied a few of the tips. Learning efficient driving methods is not a course that lasts the life of the car.
There's excellent legroom in front, but somehow the Focus has lost 2.9 inches of legroom in rear, despite stretching the length of the car by 3.5 inches. We wonder what Ford was thinking. Rear legroom is a key feature for a compact car, but Ford appears to have discounted it in the new Focus.
To be exact, rear legroom is down to 33.2 inches, when it used to be 36.1 inches, a big difference. Especially when the Volkswagen Jetta, a stylish but not flashy car, has 38.1 inches of rear legroom with the same wheelbase.
Interior noise was definitely not discounted, however. The Focus is a compact car with the NVH qualities of a full-size car. A lot of productive effort went into making the cabin silent: door structure and sealing, thicker window glass, acoustic layer in windshield, sound-deadening body panels, foam in body cavities, thicker carpet insulation, sound-absorbing headliner. Noise made by the powertrain has also been reduced, by attentive engineering of the new engine, transmission, and chassis.
The 60/40 fold-flat rear seats increase trunk volume from its so-so 13.2 cubic feet (the Jetta has 15.5) and the hatch cargo capacity to a hefty 44.8 cubic feet.