2012 Ford Super Duty Introduction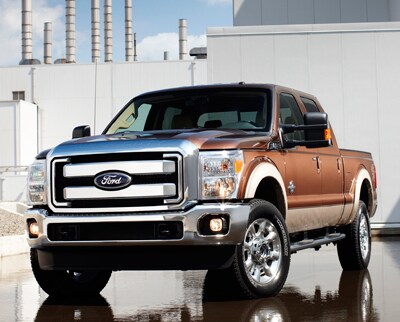 The Ford Super Duty pickups offer a pair of superb engines and can tow bumper-pull trailers that weigh up to 17,500 pounds or 24,500 with a fifth-wheel setup. Their bold, handsome exteriors are backed up by cabs that are attractive, functional and comfortable. Lariat and King Ranch models are downright luxurious. The F-450 pickup that shares cab and wheel sizes with the F-250 and F-350 remains atop the towing ratings for pickups.
The Ford Super Duty got a major overhaul for 2011 with all-new diesel and gasoline engines, a new 6-speed automatic transmission, and new front styling. Changes for the 2012 model year are minor.
The 6.2-liter V8 gasoline engine that comes standard is rated at 385 hp in F-250 models and 316 hp on the majority of F-350 versions. Those ratings are similar to GM's 6-liter and the Ram's 5.7-liter Hemi.
The 6.7-liter Power Stroke turbodiesel V8 was bumped up mid-year 2011 to 400 horsepower and 800 lb-ft of torque, an update offered at no charge to early 6.7-liter buyers. Both engines come with a 6-speed automatic transmission; no manual is offered.
For 2012, the gas engine may be ordered with a CNG/propane prep option. Also, short-bed models (6.75-foot) offer a factory gooseneck hitch package previously reserved for long beds.
There is nothing small about a Super Duty and even the shortest, plainest version represents three tons of mass. While the snout is mildly curved and aerodynamics have improved, the Super Duty is about as sleek as a concrete block, with in-your-face attitude and enough chrome to shave in front of it.
Super Duty trim ranges from basic commercial grade to luxurious Lariat and King Ranch models. Buyers can revel in heated-and-cooled Chaparral leather seats with driver memory, moonroof, a choice of two rearview cameras, SYNC voice-activated communications and entertainment, navigation, and remote start. The new diesel is quiet by heavy-duty truck standards.
Super Duty XL and XLT are designed for the cost/benefit analysis small businesses and independents use: a simple, fast trailer hookup, 4WD to get in/out of the job site, and a warm cab they can be blown clean with compressed air. For fleet and owner-operator buyers, Ford's Work Solutions system provides facilities for GPS linking, computer access to your office (with cell signal), 110-volt power in-cab, and RFID tags for your tools so you never leave any on the job site. Crew Chief allows a dispatcher real-time truck location, speed, and fuel economy, potentially useful for the Friday-night parent as well.
As usual the top tow and payload ratings are up from mid-year 2011 models, often to numbers that require a commercial driver's license. Best-in-class numbers for heavy-duty pickups sometimes change several times in a year, but they typically apply to just one model. The bottom line is that the Ford Super Duty, Ram 2500/3500, Chevrolet Silverado HD and GMC Sierra HD are all highly capable trucks and none of them has a clear capability advantage over the other.