2012 GMC Sierra HD Driving Impressions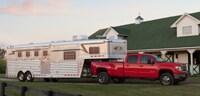 Any differences in styling, interiors or engines aside, heavy-duty full-size pickup trucks are all about bragging rights numbers. At its redesign for 2011 the Sierra HD and Silverado HD had the highest ratings for towing capacity (both conventional hitch and fifth-wheel/gooseneck), payload capacity, and gross combined weight rating (GCWR, total truck, trailer, cargo, and passengers).
Ford and Ram both caught up or surpassed at least some of those numbers, so for 2012 the GM HD pickups have raised the numbers again. Maximum ratings are: conventional trailer 18,000 pounds; fifth-wheel/gooseneck 23,000 pounds; payload 7215 pounds; GCWR 30,500 pounds. At posting time these were the highest in class but they change so often that even GMC's websites didn't have the latest numbers.
Truck people talk frames and parts because they're the foundation. On the Sierra HD the foundation includes things like forged steel upper and cast iron lower front suspension arms like pieces used on older Land Rovers and the Mercedes Gelaendewagens rather than the aluminum and stamped steel of lightweight pickups. Everything was upgraded for 2011, right down to the bolts that hold the wheels on.
Adding bigger parts is easy. What makes the GMC HD noteworthy is that the increase in capability comes with no sacrifice in ride quality, cab comfort, handling or control. GMC claims diesel highway fuel economy that suggests about 18.5 mpg, but honestly the only time you should be highway cruising in an empty HD is after you've delivered the cargo or trailer somewhere. No mention of city mileage, probably because the truck is 300-400 pounds heavier than its predecessor. We observed 10 mpg in the largest (dually) HD diesel pulling a four-ton trailer, for a short stretch.
Later we drove a Denali 2500 4WD Crew Cab with the Duramax diesel engine for one week and 640 miles, including about 200 of those miles towing a 2500-pound racecar on a 3000-pound trailer, on both a winding mountainous freeway and in the city. Overall, we averaged 14.5 miles per gallon; a sleeker aero package and half the weight than the dually cited above. The diesel's 765 pound-feet of torque was scarcely challenged for the job, and its 397 horsepower easily enabled to rig to maintain freeway speeds, even uphill. The long wheelbase and three-quarter-ton chassis kept everything stable as a rock. We made one 60-mile run on the dark, rainy, and winding freeway and felt totally secure.
Both 6-speed automatics offer a Tow/Haul mode that will execute downshifts with throttle blipping to maximize engine braking. In most cases Tow/Haul is designed for optimum use with loads of 70 to 75 percent of maximum GCWR, though you won't hurt anything by using it with lighter trailers or not using it with heavier trailers.
The gasoline engine is the purchase-cost choice and best used when routine heavy towing or high mileage are not on the agenda. Opting for the $100 numerically higher 4.10:1 axle ratio is worth every penny and raises the tow rating considerably. We saw a bit more than 12 mpg on a highway leg in an unloaded 2500-series gas engine.
Buyers who tow should strongly consider the diesel, which delivers twice the torque output and notably better fuel mileage and work ratings. The Duramax diesel is relatively quiet. Like Ford but unlike Ram, the Duramax uses DEF for the emissions system. This is filled underhood and may need to be done only at service intervals but is available at fuel depots and parts stores if you drive hard, in scorching hot weather or idle excessively. Running out will not stop the truck, but if you ignore warning messages it eventually will not restart.
Pickups of yore tended to buck like broncos on turnpike expansion joints and other uneven surfaces, with the bed trying to bounce one direction and the cab the other. Often a function of wheelbase, this can't be completely eliminated in a long vehicle like a Sierra HD, but it does an admirable job of mitigating the motion. Longer cabs get special body mounts to aid in that regard, though we found the regular cab gave a good accounting of itself; with the diesel's 700-mile-empty claimed range, it's entirely possible a base manual seat would wear you out before any ride issues did.
There's heft to the feel of a Sierra, from the way it takes big bumps to the steering and throttle inputs but this should not be construed as effort on the driver's part. Its handling characteristics are benign and amount to basic plowing if you push too hard. All-terrain tires give better grip on dirt roads, at the expense of steering precision and noise on paved roads. Optional 20-inch wheels look good but we prefer 17- and 18-inch wheels for numerous reasons, including ride and replacement cost.
The Sierra HD uses all-vented disc brakes with ABS, and independent front suspension. Of the full-size pickups, only the GM heavy-duty pickups use the same design on 4WD models as on 2WD versions. This means the 4WD HD models from GM have a lower nose and more responsive steering than their four-wheel-drive Ram and Super Duty counterparts. Again, like any big pickup, the tail is prone to kick over impacts with an empty bed; the Sierra is similar to others although it may feel it has more kick because the front is softer. Apart from turning circle and size, it takes no more effort to drive the Sierra HD than to drive any other GMC.
The rearview mirror camera display gives the same view as a navigation-screen version except on a smaller scale. Hooking up a trailer is a piece of cake: Watch the hitch ball in the mirror screen, and when the last glint of chrome disappears under the trailer hitch, you're perfectly aligned. This is easier in shade than direct sunlight, especially with predominantly white trailers, and you might tilt the mirror down to stop glare from obscuring the image. Makes us wonder how we ever got along without it. With navigation you get a much bigger rearview camera image, which makes it easier to spot objects and line up the hitch ball.
The optional rear park assist gets fooled by a slide hitch, however, and repeatedly flashes a message that it's disabled, and to see owner's manual. It's surely something you can override, but we just cleared the message each time.
Don't count on the camera for backing up with a trailer, though. When you can see your trailer, the old-fashioned way of looking in the mirror or over your shoulder is easier. When you can't see the trailer, for example an empty boat trailer or car-hauler like ours, the camera is deceptive, because the lens is so wide. When the trailer veers, you can't even tell in the camera.
The optional integrated trailer brake controller will apply your trailer brakes smoother than any aftermarket controller and works in concert with the Sierra's braking system. Be sure to get this feature.
The diesel engine has an exhaust brake function in the turbocharger, and the Allison transmission uses grade control logic to help maintain chosen speeds, even using cruise control on up- and down-grades.
Note that, as on any pickup, the maximum ratings usually don't apply simultaneously. While a particular Sierra HD might carry 7200 pounds or tow 23,000 it can't do both at the same time without substantially exceeding the GCWR.