2012 GMC Sierra HD Walk Around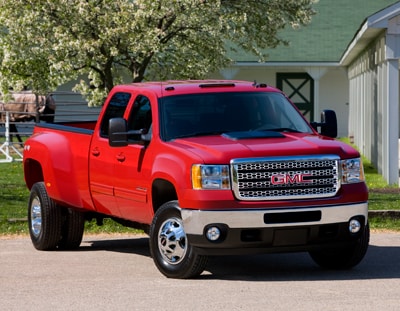 The Sierra HD shares its mechanical bits with the Chevrolet Silverado HD, but they are not visually identical. Different grilles, lights, trim, wheels and badges distinguish the two. Denali models use unique elements of those distinctive parts to separate themselves from other Sierra HDs.
The wallpaper sized, ruby red GMC logo makes its origin obvious. The bumper that blends into the fenders gives the front an integrated look that lacks the big bumper-to-grille opening characteristic of vehicles with separate bodies and frames. The increased frame stiffness allows smaller gaps between panels and helps the Sierra HD ride quieter than Super Duty cabs.
Extended cab models have rear doors that open to the rear after the front doors have been opened, with windows that roll down to minimize rear seat claustrophobia. Ford's Super Cab uses the same system, while Ram HD's mid-size cab has four conventionally opening doors.
The box sides are deep. The tailgate has an optional lock and assist for closing it with less effort. The cargo management option fits rails to three sides of the bed, which can be used for tie-down points and to carry a variety of tool or utility boxes. The dual-element mirrors, some of which are heated and power-fold for drive-through lanes, aid rearward vision when towing.
Most heavy duty pickups have external dimensions close to each other and the Sierra is similar; more than six-and-a-half feet wide outside with room for a 4×8-foot sheet of building material to ride flat in the long bed. 4WD Sierra models are slightly lower than competing pickups, and that inch or two could make the difference in commercial garages or with critical fifth-wheel trailer/bed side clearances.
Interior
The high-line Sierra SLT cabin feels just like the interior of a large luxury car, with a low-profile dash sporting lots of woodgrain trim, a compact instrument cluster with good gauges, three months of XM radio to get you hooked, and a center stack that rolls off the dash and right into a full-length center console.
The Sierra HD SLT and Denali cabins are more car-like than truck-like: sleek, distinctly split between driver and passenger environments, and good fit and finish. Other Sierra models use a more conventional pure pickup layout, with a higher dash section that goes across the middle and leaves the center open for middle riders, manual-shift transfer case, or communications and safety equipment.
Though not as stylish, the standard pure pickup dash is the more functional of the two and equally well assembled and equally up to date. It offers more options in small storage, a second glove box with an awkward latch, locking storage area with power point beneath the center seat section, more places to add accessory switches, radio and ventilation controls are up higher near line of sight, and the materials produce less glare in low-lying sun and night construction areas. Adjustable pedals and a tilt wheel are available, though the wheel does not telescope.
The Regular Cab Sierra has room for an XL-sized gent and space behind his seat for coat and boots. Extended Cabs have a seat cushion that folds up for more storage and LATCH anchors for infant seats. Crew Cabs are the obvious choice for anyone hauling more than youngsters on a regular basis, just be sure the middle rider knows there is no headrest.
Operating controls are clearly labeled and logically placed, and the shifter offers the typical D and 1 positions, with an M position and thumb tab for individually selecting any intermediate gear.
If there's a drawback to the Sierra cabin it is the quantity of similarly shaped and labeled small buttons that butterfingers may have some issues with. Door switches won't let your dog power the window up, but he may still lock you out; fortunately, OnStar (and the turn-by-turn navigation it offers) is standard and includes a few months free service. As with a Mercedes, turning on the navigation system also switches on the radio, and you'll have to turn it all the way down if you don't want to hear it.
The fact that the Sierra interior, especially on SLT models, is the most like a car will certainly find favor with those who need a pickup rather than just want one. Denali models may steal a few King Ranch or Laramie Limited sales.