2012 GMC Sierra Driving Impressions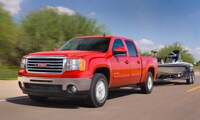 We've driven multiple versions of the GMC Sierra and found all of them to be comfortable. The 5.3-liter V8 provided plenty of power for the extended cab SLE models we drove. All engines need to be revved up (by truck standards) for best performance. Generally, the Sierra models match competitors for smoothness.
The Z83 suspension offers the smoothest ride. The Z85 is slightly stiffer and for those who often tow moderate trailers, a good choice for towing. The Z71 is set up to enhance off-pavement driving yet works very well on the road; we think the Z71 is the best suspension setup for comfort on the widest range of surfaces. The Z60 configuration is for street performance and includes big 20-inch wheels but we often found any increase in performance does not outweigh the disadvantages in cost, ride quality or hauling ability. The NHT Max Trailering Package is designed for Sierra owners who need to tow and carry the heaviest loads.
With NHT, the SLT Crew Cab 4×2 is equipped with the 6.2-liter V8 engine. The SLT with NHT suspension is designed for maximum capacity trailer towing, with a special steering gear, shock absorbers, rear axle and tires. We found the NHT suspension compliant relative to its carrying capacity. Isolation and control are both very good. By virtue of its fairly stiff spring and shock rates, the NHT suspension can be driven aggressively on winding roads with tire squeal the primary indication you're approaching the cornering limits. Steering is direct by truck standards and nicely weighted, providing good feedback about how hard everything is working, though the assist can fall behind during repeated full-lock maneuvering as when backing a trailer. However, if you mostly use the truck with it empty and rarely tow, we don't recommend the NHT package due to its harsher ride. If you do tow, however, this is the hot setup among light-duty pickups.
The integrated brake controller should find favor with drivers who tow RV or box trailers. However, be sure your trailer brakes are compatible with it before choosing the option, as some electro-hydraulic disc conversions do not work with the integrated controller. If it is compatible, it's a great feature, eliminating the mess of installing an aftermarket unit and offering more precise braking. We've found it's much easier to modulate the brakes with the integrated brake controllers than with aftermarket units.
The highest tow rating for a Sierra is 10,700 pounds on Extended Cab (not long bed) models; top Crew Cab rating is 10,600 and for Regular Cabs it's 10,000 pounds. Note these figures typically apply to a truck with just a driver on board, and vary substantially based on a variety of equipment and options.