2012 Honda Accord Introduction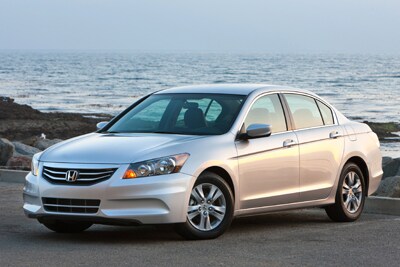 The Honda Accord is difficult to beat in terms of overall performance, efficiency and refinement. Accord comes in sedan and coupe body styles. (There's also the high-riding Crosstour hatchback crossover, but it's reviewed separately.) The 2012 Honda Accord is available with a choice of four-cylinder and V6 engines, and manual or automatic transmissions.
Accords are roomy, comfortable and very easy to live with, largely free of niggling annoyances that can make otherwise good cars less appealing. Honda Accord and Toyota Camry have long been the benchmarks for midsize sedans because both do everything well. The Accord has a hint of sportiness that adds appeal.
The four-door Accord sedan competes with the Toyota Camry, Nissan Altima, Ford Fusion, Hyundai Sonata, Mazda 6, and Chevrolet Malibu. The Accord offers roomier front seats than the competition. And the Accord comes off more polished than most, with an emphasis on power, fuel economy and space efficiency.
The stylish Accord Coupe offers a 6-speed manual with the V6, for a rare combination in mid-size cars. It comes with a sporty suspension package and low-profile tires on 18-inch wheels, and goes head to head with the Nissan Altima coupe.
With effectively five trim levels, the Accord can fit a wide range of budgets. There's a no-frills sedan with plastic wheel covers, essential features and a solid stereo; and high-trim models with sumptuous leather, mega-watt sound systems, active noise cancellation and navigation. All variants deliver high engineering standards, excellent finish, good build quality and all the important safety equipment.
The 2012 Accord carries over largely unchanged; a USB port comes standard on all 2012 Accord models. The Accord benefitted from a facelift for 2011, and some new features and efficiencies brought improved fuel mileage ratings. The Accord sedan and coupe were last redesigned for 2008, when they grew in exterior dimensions and offered improved occupant safety.
Some of the Accord's competitors have been redesigned more recently. Others can be more fun to drive. Yet there may be none that match Accord's overall combination of polish, refinement, efficiency and choice. For that reason, the Honda Accord remains a benchmark among mainstream, midsize automobiles.