2012 Honda Accord Summary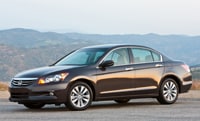 The Honda Accord is big on efficiency, whether that means getting the most power and range from a gallon of gas, delivering the most interior space for the exterior dimensions or providing the smoothest, quietest ride and highest level of crash protection with the least weight. Accord offers a range of four- and six-cylinder engines Every Accord is easy to operate, well-engineered and well-mannered. Moving four people comfortably or enjoying the long way home, any Accord is up to the task.
NewCarTestDrive.com correspondent G.R. Whale filed this report from Santa Monica, California. J.P. Vettraino contributed from Detroit, and John F. Katz from south-central Pennsylvania.