2012 Honda CR-Z Driving Impressions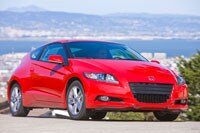 Underway, the Honda CR-Z doesn't accelerate like a gas-electric hybrid, mainly because of the manual transmission. We didn't have the chance to drive a CR-Z with the CVT with 7 ratios and paddle shifters. More hybrid, less sports car. Some reviews say it's the way to go, because for $650 you get 3 more mpg, in addition to the convenience of an automatic. Others say no way, because the CVT takes the sport out of things, partly because it's not responsive to the driver. The CVT version gives up 5 pound-feet of peak torque in exchange for a slightly broader range; but the 6-speed manual gives the CR-Z more zip.
In other ways, the CR-Z does feel like a hybrid, a sports car/compact coupe. You won't think you're in a Miata. The fastback roofline and rear compartment don't add to a sports car feel. Although that styling sure looks good on the Jaguar XK Coupe.
Zippy might be the best word describe the CR-Z performance. Really zippy. It comes on at 3500 rpm and revs with gusto to 6300 rpm, assisted by 58 pound-feet of torque from the 13-horsepower electric motor. That's not quite what hybrids were made for, to boost acceleration like a turbocharger, but what the heck. It's a sports car. Motor Trend magazine clocked it from 0 to 60 in 8.3 seconds, pretty zippy.
The 6-speed gearbox is tight and good, never mind that it arguably doesn't belong in a hybrid. When you get up to speed, the engine is smooth and quiet, running just 3000 rpm at 73 mph, boosted less by the electric motor at that pace but still getting 36 mpg. The range with its 10.6-gallon tank is easily 300-350 miles or more. It's a six-layer composite tank, reducing evaporative emissions.
For one 13.9-mile stretch, we got 148.0 miles per gallon while averaging 52 mph. Cross our heart. What's that, you ask? Okay, it was mostly coasting down a Cascade Mountains pass.
Emissions are AT-PZEV, tier 2 bin 2, the cleanest ratings a vehicle with an internal combustion engine can achieve.
The CR-Z can be set in Sport, Normal or Econ modes, and you can feel a big difference between them; when you switch modes, driving along at a steady 65 mph, the engine either slumps or surges. It's strong and responsive at 75 mph, in Sport. It makes you want to stay in Sport all the time. It makes you question your values.
In Normal mode, the engine keeps running when the MT car is at idle even with all power accessories shut off.
Hill Start Control is nice with a manual transmission. When starting out on a hill, it gives you about three seconds to disengage the clutch, before it drifts backwards.
The CR-Z handles well in corners, and is quite responsive. Zippy might describe the handling, too. The tight steering ratio of 12.75:1 makes the CR-V a lot of fun to maneuver.
But the suspension doesn't go easy on you. It follows the rises and dips in the road tightly, which is fine as long as the road is smooth. If it's not, well, at the end of our 280-mile freeway run, we were over it. Dull back pain afterward, a problem we rarely have.
It's stable in the wind, even with its light weight, not surprising given the windcutting aerodynamics.
The brakes feel good, ventilated disc in front, solid in rear. Honda has managed to take the hybrid feel out of the pedal, still regenerating energy. But we found the ABS quite aggressive; one time we hit the brakes abruptly at about 30 mph in stop-and-go freeway traffic, and the ABS engaged even though we were far from locking them up.