2012 Honda CR-Z Introduction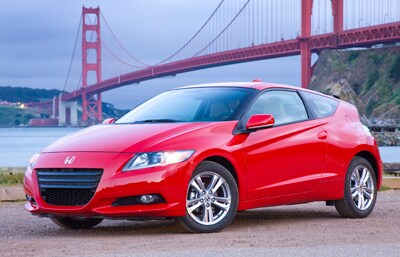 The 2012 Honda CR-Z hybrid sport coupe starts with Honda's great little 1.5-liter i-VTEC engine and adds its Integrated Motor Assist technology in the form of a 13-horsepower electric motor powered by an 84-cell pack of nickel-metal hydride batteries under the cargo floor. The CR-Z doesn't feel like a hybrid, especially not with the standard 6-speed manual transmission, and that's either a good thing or bad thing depending on your hybrid point of view.
The CR-Z seats two.
The CR-Z is the most efficient two seater sold in America, according to the U.S. Department of Energy and the U.S. Environmental Protection Agency, which apparently are now in the car review business. The EPA rates the CR-Z at 35/39 mpg City/Highway with the optional paddle-shifting CVT, or 31/37 mpg with the sportier 6-speed manual transmission.
The Honda CR-Z is about the same length and width as a Honda Fit, but lacks Fit's function and practicality. The Fit seats five. Cargo space in the CR-Z is vast, but storage space within arm's length of the driver is lacking.
Acceleration performance is zippy, the engine revving to a redline of 6300 rpm. Cornering is quick, and the ride and suspension are taut, but with time in the saddle it starts to feel sharp over freeway bumps.
Styling follows Honda Accord design cues, with lovely shoulders, a low hatchback roofline, and chopped tail not unlike the departed and much-loved CRX Si (1984-91), which the CR-Z doesn't pretend to be. Deep lines sweep back and up from the front wheels, creating a sculpted wedge on the side of the car. The headlamps are simple and elegant like the wings of a hawk.
The CR-Z is targeted for a young audience, with electronic capabilities galore, and no rear jump seats even though there's room (there's a 2+2 version in Japan). There are benches that fold down for storage, however.
The instrument panel is busy, with a dominant light-ring changing colors from green to blue to red depending on how hard you're driving. The dashboard is sculpted to be futuristic, and we wish more design time had been spent on being practical rather than cool. The cloth mesh seats are supportive with good bolstering, and the HID headlamps on the CR-Z EX are excellent.
There's a blind spot on account of the roofline, and visibility in the rearview mirror is restricted on account of the nearly flat roofline.
The CR-Z uses its electric motor to go faster. That's not quite what hybrids were made for, to boost acceleration like a turbocharger, but after all, it's a sport coupe. If they had used a turbocharger instead of an electric motor, fuel economy would have suffered.
The CR-Z can be set in Sport, Normal or Econ modes, and you can feel a big difference. It's strong and responsive at 75 mph in Sport mode. Emissions are AT-PZEV, tier 2 bin 2, the cleanest ratings a vehicle with an internal combustion engine can achieve. And it can go 100,000 miles before needing a tuneup.
The CR-Z was an all-new model for 2011. Honda has made only one minor change for 2012: Black CR-Zs are now available with your choice of silver or new black seat fabric. Silver remains the only interior choice with all other exterior colors.