2012 Honda Fit Driving Impressions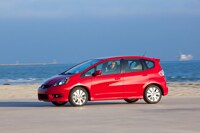 The 1.5-liter engine is very smooth and powerful, for an engine that small. It's rated at 117 horsepower at a high-revving 6600 rpm.
Mated to the 5-speed automatic transmission with paddle shifters, it's an exceptional powertrain. And the 5-speed manual gearbox is tight and fun, with a clutch that's easy to use.
We drove into a heavy headwind with the cruise control set at 72 mph in a Honda Fit automatic. On uphill stretches, the transmission shifted back and forth between 5th and 4th, and on steeper hills it kicked down to 3rd, but the shifts could not be felt, or even heard with the radio tuned to the news. We watched the tach jump, from 2600 rpm in 5th to 3100 in 4th to 4000 in 3rd, but never felt or heard the shifts. That's smooth. The automatic has a Sport mode that holds the transmission in gears longer when you're in Drive. This sport mode is meant for sports car-like driving, which the Fit likes. The driver can shift manually using paddles.
However that headwind caused the Fit to dance around on the road a lot, because it is so light, even though the aerodynamics are good.
The gas mileage was good at that pace. We started the trip at 25.8 mpg from city driving, and it climbed to 30.5 mpg after 229 miles, despite sometimes pushing to 80 mph. The manual transmission Fit and Fit Sport with the automatic get an EPA-estimated 27/33 City/Highway miles per gallon, while the base Fit automatic manages an even better 28/35 mpg.
The Fit is nimble around town, making driving fun and relaxed. The handling is quick, more precise than that of a Toyota Yaris, although the Mazda2 and Ford Fiesta are good, too. We'd love to see a racing series with those four cars; might as well throw in the Fiat 500, though it would be tail-end Charlie.
For everyday driving the Fit is obedient and comfortable, thanks to the great seats and a suspension that smoothes the ride. There's a lovely firm feel to the brakes, too.