2012 Honda Fit Introduction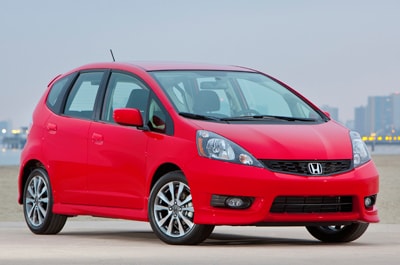 The Honda Fit is practical, economical, and roomy, and it remains the most enjoyable to drive of the subcompacts.
All Honda Fit models benefit from improved sound insulation for 2012. Also, the 2012 Honda Fit Sport model is distinguished by some new styling revisions and comes with more standard features. Otherwise, the Fit is unchanged from 2011.
We found the 1.5-liter engine smooth and powerful for an engine that small. It's rated at 117 horsepower at a high-revving 6600 rpm, with 106 foot-pounds of torque at 4800 rpm. There's never an issue with not enough torque, that force that propels you from intersections and up hills.
Mated to the 5-speed automatic transmission with paddle shifters, it's an exceptional powertrain. The Honda automatic has a Sport mode that holds the transmission in gears longer when you're in Drive, and not using the paddles for manual shifting. This Sport mode is meant for sports car-like driving, which the Fit likes. And the 5-speed manual gearbox is tight and fun, with a clutch that's easy to use.
Fuel mileage is rated at 27/33 mpg City/Highway, or 28/35 mpg for the base Fit with the 5-speed automatic.
The Fit wears the face of the future, with its wedge-shaped front end. It has a presence that reaches beyond its subcompact status.
Underway, the Fit feels like a bigger car to the driver, partly because the dashboard is long, to accommodate the raked windshield, and partly because there's so much legroom in the front, again thanks to that rake. Thanks to the expansive greenhouse and big mirrors, there's excellent visibility in all directions, including out the vertical and unobstructed rear glass.
The Fit's size is just right for many drivers. It's easy to park and maneuver and inside is an amazingly configurable interior. The second row of seats can be folded and flattened for carrying cargo, and the front passenger seat slides way forward and reclines way back, creating a long space from dashboard to liftgate that can hold a kayak.
The standard black cloth seats are wonderful, upholstered in a smooth comfortable material that's pleasing to the touch, and the bolstering is just right, with excellent cornering support. In fact, the seats would work in a sports car. Lots of cubbies and cupholders make everyday driving convenient. Rear legroom is roomier than that of the Toyota Yaris, Mazda2, and Ford Fiesta.
The Fit is relatively expensive among subcompacts. It's the best driver's car among these, so if you're a driving enthusiast, the Fit is the best choice. All models come with Vehicle Stability Assist (VSA). However, if purchase price is more important, then you should carefully compare prices, features and equipment with the Mazda2, Ford Fiesta, Nissan Versa, and Toyota Yaris.