2012 Honda Odyssey Introduction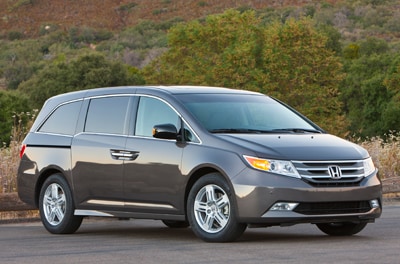 The Honda Odyssey is about function and making family life easier. It can carry a family of eight, or half a high-school soccer team, with all their coolers, balls, tents, shoes, whatever. It can tow a small trailer with a motorcycle or watercraft. It can carry 4×8 plywood flat on the floor, with 10-foot-long boards can be stacked on them, extending between the front seats when the convenient removable console is taken out. Best of all, it's loaded with conveniences designed to simplify life.
The Honda Odyssey was thoroughly redesigned and re-engineered for the 2011 model year, marking a new generation of one of America's favorite multi-purpose vehicles. For 2012, the only change, besides a new color, is that the 2012 Honda Odyssey EX gets some of the fancy electronic equipment previously reserved for the Odyssey EX-L.
Though still called a minivan, there is nothing mini about the modern minivan. The Honda Odyssey, Nissan Quest, Toyota Sienna, and Chrysler Town & Country are big passenger vehicles. If you need a true mini-van, you might consider a Mazda5. For many uses, and especially for carrying people, a Honda Odyssey or one of its competitors makes more sense than a full-size sport-utility or crossover. A minivan handles better, is roomier, and is more fuel-efficient than an SUV does.
The Odyssey is less expensive than a luxury SUV, gets better fuel economy, and has more cargo room, with greater flexibility in how the space is configured. Unless you need four-wheel drive or you tow a big car or boat, the Odyssey should work. Odyssey's third-row seats set a new standard in legroom, with as much space as the front seats in a Cadillac Escalade or even the Odyssey itself.
The Honda V6 engine leads the class in fuel economy and delivers 248 horsepower. A 5-speed automatic transmission is standard, but Touring models get a 6-speed automatic that delivers better acceleration and better fuel mileage. Honda is a leader in engine development and the Odyssey's V6 is smooth.
Comfort and poise are excellent, even with six large people on board. Six airbags including three-row side curtains are standard. The Odyssey leads its class in safety ratings, with 5 Stars from NHTSA and Top Safety Pick from IIHS. Honda boasts that it's the only eight-passenger minivan to ace both tests.
Odyssey's main competition is the Toyota Sienna, which offers more choices with a four-cylinder engine, a sport model and all-wheel drive available but not eight seats. The re-engineered Chrysler Town & Country is an eight-seat rival.