2012 Honda Pilot Driving Impressions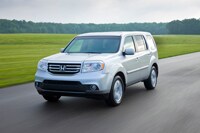 The Honda Pilot's practical image falls short when it comes to performance. There's not much oomph off the line, which we assume is in part to aid fuel economy numbers. Although rated at 17 mpg City and 24 mpg Highway by the federal government, our numbers according to the Pilot's on-board computer were far lower. After a week of driving a combination of city and highway roads in Southern California, our fuel economy was a disappointing 12.6 mpg, and 12.2 mpg while in stop-and-go Los Angeles traffic.
The Pilot drives as big as it looks, and we don't mean that in a good way. It's cumbersome around corners and in tight spaces, especially noticeable in L.A.'s crowded parking lots. Ride quality is compliant and comfortable, and the Pilot floats over bumps and chewed-up city roads with ease. Pilot's suspension is tuned softer than that of the GMC Acadia and Buick Enclave yet it leans less in corners than the Toyota Highlander. The Acadia may enjoy a slight advantage in steering feel.
The 3.5-liter V6 takes on a characteristic Honda growl when you push it and you'll need to be towing or accelerating uphill on an on-ramp to require such grunt. For the most part the engine is in the background, never silenced, never rough and never annoying. It uses Honda's Variable Cylinder Management (VCM) to switch off two or three of its six cylinders to save fuel; the ECO light on the dash shows when you are getting best economy and does not necessarily mean the Pilot is running on only three or four cylinders.
The Pilot shifter offers an OD Off switch which locks out the top two gears, so if you want fourth to control speed on long hill descents or winding roads you're out of luck. The Toyota Highlander and Mazda CX-9 perform better in these respects.
Braking performance felt adequate to us, although some industry tests indicate the 2012 Honda Pilot requires much more stopping distance than others in its class. Electronic braking aids, including brake assist, come standard.