2012 Honda Pilot Introduction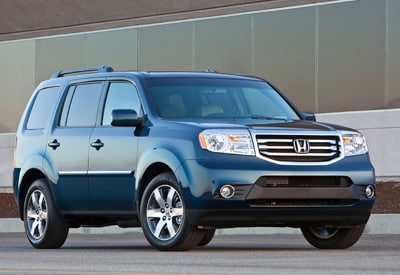 The Honda Pilot is a sturdy, reliable SUV with ample space, convenient features and the ability to handle whatever weather Mother Nature might have in store.
New for the 2012 Honda Pilot is a refreshed exterior including an updated front fascia, grille and headlights. Inside, the 2012 Pilot gets a redesigned center stack and instrument cluster, updated navigation system and better interior materials. Added sound proofing makes for better noise insulation, and several features that were previously options now come standard on the 2012 Pilot.
Also notable is a slight improvement in fuel economy for the 2012 Honda Pilot. Aerodynamic and powertrain adjustments to the 2012 Pilot eek out an extra 1 mile per gallon in the city and 2 mpg in both freeway and combined driving.
The Honda Pilot seats eight, and it can easily handle four adults and four children. It offers cupholders and storage cubbies galore for front, middle and rear-seat passengers. When hauling cargo, the Pilot has enough space to carry a 4×8-foot sheet of building material flat inside.
Pilot is available with either front-wheel drive or all-wheel drive. The all-wheel drive version offers a 4,500-pound towing capacity and the ability to handle inclement weather, but the car-like crossover construction of the Pilot makes it better suited to on-road activities than slogging though mud or tackling rocky terrain.
Compared to others in its class, the 2012 Honda Pilot is a decent midsize crossover sport-utility. It keeps pace in terms of storage space and fuel economy, but offers humdrum performance, most notably in its somewhat sluggish acceleration and unimpressive stopping distances. Those who prefer a sportier, more responsive crossover should consider the Mazda CX-9. Other alternatives include the Ford Explorer and Dodge Durango. If you don't need towing capacity, the Ford Flex offers similar space with much more panache.