2012 Hyundai Accent Driving Impressions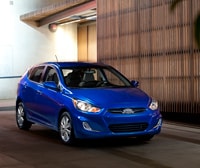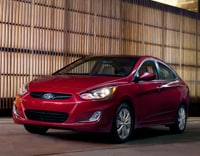 The new 1.6-liter four-cylinder engine in the Hyundai Accent provides enough power and torque to provide good acceleration with either 6-speed transmission, partly because the car's power-to-weight ratio is the best in the class, according to Hyundai figures. The new engine is smooth and quiet, and runs at about 2200 rpm at 70 mph in sixth gear, and about 4400 rpm at 100 mph. The thrifty, gutty little Gamma engine is surrounded by helpers like electric power steering, low-rolling-resistance tires, lighter elements throughout the engine bay and the rest of the vehicle.
It all adds up to Accent's 28/37 mpg EPA mileage rating City/Highway.
The 6-speed automatic transmission performed quickly and quietly.
The 6-speed manual gearbox is easy to shift and the clutch pedal was light and easy to operate. Some models include an EcoShift indicator between the instrument pods to indicate the proper gear for all driving conditions. We did not care for this and generally find shift lights distracting.
Going down the road, the Accent is far smoother and quieter than we were expecting it to be. A more-rigid chassis, stronger steel, more and better sound insulation and better door seals show in the car's quiet highway behavior.
We found the Accent responds relatively quickly, has good tracking, relatively quick response, and good feel on center. Bump, rut and pothole damping is very good. Roll control on twisty mountain and desert roads was very good, and the car stayed put pretty well in hard corners. It's one of the lightest cars in its class at less than 2500 pounds, so it responds quickly to inputs.
The all-disc anti-lock braking system (ABS) is rare in the subcompact class, and the Accent's stopping performance was excellent.