2012 Hyundai Elantra Introduction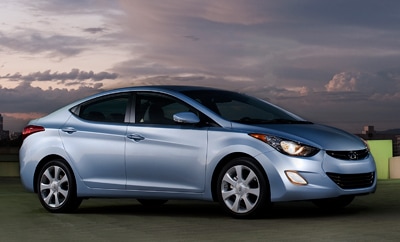 The Hyundai Elantra is a home run, winning awards for its combination of affordability, sporty styling and performance, and roomy, attractive cabin. This latest design is modern and stylish, with crisp, clean lines. The cabin is roomy and attractive.
We found the Elantra enjoyable to drive. It has a nice balance of smooth ride and responsive handling. And we weren't the only ones who thought that: The Elantra was named the 2012 North American Car of the Year by a jury of 50 independent automotive journalists.
For 2012, changes are minimal because the Elantra was completely redesigned for 2011, with a new body, interior, engine and transmissions.
The 2012 Elantra comes with a new system called ActiveECO, which modifies engine and transmission control to smooth out throttle response and increase real-world fuel economy by up to 7 percent, according to Hyundai. The government numbers are unchanged, however. Also, the steering has been recalibrated on 2012 Elantra models for better on-center feel, and the horn has been upgraded. Otherwise, the 2012 Hyundai Elantra is unchanged from the all-new 2011 model.
A four-door compact sedan, Elantra competes against the Ford Focus, Chevrolet Cruze, Honda Civic, Mazda 3.
All models are powered by a 1.8-liter four-cylinder engine rated at 148 horsepower and 131 pound-feet of torque with a choice of 6-speed manual or 6-speed automatic transmission. Like other compacts, Elantra is front-wheel drive. Its relative light weight, less than 2,900 pounds, helps the Elantra with acceleration performance, braking performance, handling and fuel economy.
Fuel economy is an EPA-estimated 28/38 mpg City/Highway with either transmission. That's better than the Ford Focus (26/36 mpg), Chevrolet Cruze (26/36 mpg), or Honda Civic (28/36 mpg). It compares favorably to the super-efficient Focus SFE (28/40), Cruze Eco (28/42), and Civic HF (29/41) models. Hyundai says its Elantra PZEV model (that's California-speak for Partial Zero Emissions Vehicle) is as clean as many hybrid electric vehicles, though power from the PZEV is slightly less. Hyundai claims a range of up to 500 miles.
Inside, Elantra is roomy, especially by compact standards. Its interior measurements are comparable to those of a small midsize car. There's plenty of headroom and legroom for tall drivers. Once inside, the back seat is tolerable for tall passengers, making this a great car for college students, though the sedan's fastback roof doesn't offer the rear-seat headroom of a hatchback. All models behave the same, so choosing a model comes down to deciding which features you want. We think the lower-level models offer the best value.