2012 Hyundai Equus Summary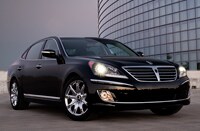 The Hyundai Equus continues to gain ground in winning over luxury buyers. With its attractive styling, smooth-as-silk handling and excellent warranty, it is a solid choice in the luxury sedan segment. Although those seeking the prestige of name recognition might turn to more established brands, the Hyundai Equus provides admirable performance and features at a fair price.
Laura Burstein reported on the Equus from Las Vegas. Barry Winfield contributed to this NewCarTestDrive.com report.