2012 Hyundai Genesis Introduction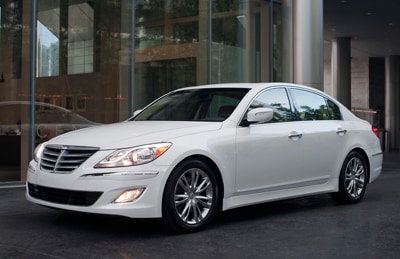 Acclaimed for its smart styling, solid build quality and higher-end features found normally on more expensive marques, the Hyundai Genesis sedan has been a darling of automotive experts since it hit the U.S. market in 2008. And consumers seem to agree. Sales of the midsize four-door have been increasing every year since its introduction as a 2009 model. Many Genesis buyers are new to the Hyundai brand, abandoning more established makes and spawning more than one biblically inspired aphorism of how Genesis begets exodus.
The 2012 Hyundai Genesis gets refreshed front and rear fascia including tweaked headlamps and bumpers, a revised front grille and an integrated exhaust design, along with more upscale-looking exterior trim. New for 2012 are heated rear seats and a lane departure warning system, both included in the optional Technology Package.
Most significantly, the 2012 Genesis boasts new, more powerful and more efficient powertrains, including three gasoline direct injection (GDI) engines and Hyundai's first proprietary 8-speed automatic transmission.
Most 2012 Genesis models come with the base 333-horsepower 3.8-liter V6. For those who want more oomph, a 4.6-liter V8 version available in one nicely equipped trim level will get you a satisfying 378 hp.
Enthusiasts will salivate over the new 5.0-liter Genesis R-Spec for 2012, which cranks out a class-competitive 429 hp and 376 pound-feet of torque capable of a 0-60 mph time in just over five seconds, while still achieving a respectable estimated 25 mpg highway rating. The 2012 Hyundai R-Spec also gets a sport-tuned suspension, steering and transmission along with19-inch alloy wheels and unique headlamp trim.
In keeping true to its passion for drivetrain advancement, Hyundai's new 8-speed transmission with manual shifting capability (dubbed Shiftronic) was developed fully in-house. More gears, in addition to other features including skip-shift technology, help to reduce emissions and improve fuel economy. Purists will bemoan the lack of a manual gearbox on any 2012 Genesis models.
Hyundai would like us to believe the 2012 Genesis sedan competes head-to-head with midsize luxury four-doors such as the BMW 5-Series and the Mercedes-Benz E-Class. And while the Genesis sedan offers superb value over these German mainstays, it might be a tough sell for the badge-conscious. Plus, those who live in snowy climes might leave the Genesis off their lists for lack of a four-wheel-drive version. The V6-powered Genesis is best compared with midsize sedans such as the Chrysler 300 and Buick LaCrosse. Features and performance, however, are on par with luxury models like Lexus GS, Lincoln MKS and Cadillac CTS. The 5.0 R-Spec proves to be a good contender with the likes of the Infiniti M56S, but with a much lower sticker price.
Also compelling is Hyundai's Assurance trade-in value guarantee, which assigns a future value to a vehicle at the time of purchase, based on a 24- to 48-month time frame. This guaranteed value can then be applied to a future Hyundai trade-in, as long as it's within the 24- to 48-month period. Even if the car is worth more than projected at the time of trade-in, the customer gets the higher amount.
Whether it's a true luxury car in the minds of buyers, the 2012 Hyundai Genesis in all its incarnations remains a top choice, both on paper and on the road.