2012 Hyundai Tucson Driving Impressions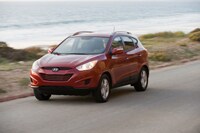 The Hyundai Tucson is reasonably agile and responsive, competitive with the other small utilities in its class, such as the CR-V and Escape.
Hyundai's 2.4-liter engine is smooth and quiet in normal driving, but accelerating hard onto a freeway to join the flow of traffic, its thrust is only adequate and the yowl it makes reminds you that it has a small, four-cylinder engine. The 2.4-liter engine is rated 176 horsepower at 6000 rpm and 168 pound-feet of torque at 4000 rpm. It's comparable to the other four-cylinder engines in this class, which do not offer the thrust of a more powerful but more expensive V6. Although Hyundai claims larger real-world gains for the new Active Eco function, EPA-estimated fuel economy for the 2012 2.4-liter Tucson engine is up only slightly over last year's model, from 22/31 to 22/32 mpg City/Highway with front-wheel drive.
The Hyundai-designed 6-speed automatic transmission is smooth-shifting and excellent, giving the Tucson a big advantage in efficiency over other vehicles in its class. Additionally, its manual shifting capability is particularly good. In all but the most dramatically ill-advised shift requests, it gives you the gear you command.
The Tucson GL 2.0-liter engine features dual overhead camshafts, four valves per cylinder, continuously variable valve timing and a variable intake system. The 2.0-liter produces 165 horsepower at 6200 rpm and 146 pound-feet at 4600. We haven't driven the Tucson GL with the 2.0-liter engine. As the GL is not significantly lighter than the GLS, we have to suspect that performance suffers accordingly. The automatic 2.0-liter is also equipped with the new Active Eco system, but its EPA ratings remain the same as last year's, at 23/31 mpg City/Highway. EPA mileage estimates for the 2.0-liter with manual transmission are only 20/27 mpg.
In states that follow California regulations, the GLS and Limited are Partial Zero Emissions Vehicles (PZEV), with horsepower reduced to 170 hp and torque to 163 pound-feet. Pricing and equipment remain the same, so you can satisfy your environmental good intentions with little or no sacrifice.
The motor-driven electric power steering is one of the Tucson's greatest strengths. We found it perfectly calibrated, giving firm steering response and flawless road feel, leaving us no excuse to become uninterested in the driving experience. Absolutely first class. And of course it's integrated into the vehicle's Electronic Stability Control.
Ride and handling are good. In corners, the chassis had only mild roll, as would be expected of a vehicle engineered and tuned in Germany.
However, we noted a significant difference between the front-wheel-drive and all-wheel-drive versions. Ride quality with the all-wheel-drive models was noticeably harsher than that of the front-drive versions. This proved particularly true when driving the top-of-the-line Limited AWD with 18-inch wheels and therefore tires with shorter sidewalls. This is not to say that the AWD chassis is terrible, and if your planned use for your vehicle dictates all-wheel drive for climatic reasons, then the AWD Tucson will serve your purpose admirably. But if you have no particular need of all-wheel drive, save some money, and get a gentler front-wheel-drive package.
We found the brakes felt good with firm pedal feel and exemplary modulation, meaning nice, smooth, precise stops. All in all as utilities go, a satisfying driving package.