2012 Hyundai Tucson Summary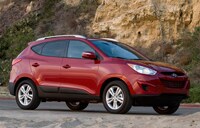 The Hyundai Tucson is a compelling choice among compact SUVs. Tucson offers a lavishly equipped package, with all the engineering, comfort, and over-the-road advantages demanded of a contemporary crossover utility. Far from being just Korean, this vehicle is nothing less than world class, at a price slightly below world class.
Ted West filed this report to NewCarTestDrive.com after his test drive of the Tucson upstate New York. John F. Katz contributed to this report from Pennsylvania.