2012 Hyundai Tucson Walk Around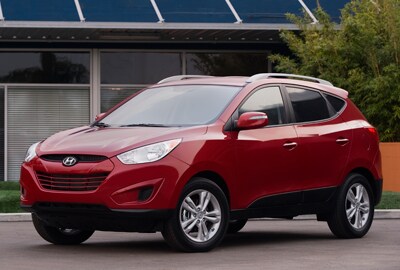 The Hyundai Tucson takes advantage of the current European taste for dynamic thrusting forms and aggressive angularities. It has swoopy lines darting to and fro along its flanks, nose and tail. The side windows have not the slightest hint of being rectangular, with the little triangular windows behind the C-pillar almost squinted shut.
Tucson has an athletic, muscular look, the four wheels barely contained by their swollen, stuffed-tight wheel arches. A huge, deeply slanted windshield provides excellent forward perspective for the driver, but for rear seat passengers, looking out of the Tucson's narrow side windows is a little like peering out the gun slit of an armored car.
There will be those who find the Tucson's exterior a little busy looking, while others will find that standing next to the Tucson and looking down its door sides, it looks oddly slab-sided, bigger and heavier than it really is.
As always, there is ample room for debate about the Tucson's styling. The one point that is not debatable is this crossover's high expectations. Its styling is up to the minute, as aggressive as any crossover in the world market. For those youngish families with a taste of sportiness, Hyundai has opened the door wide.
Interior
Inside, the Hyundai Tucson is roomy and comfortable. The front seats are excellent both in terms of firm support and quality leather. The one-touch up/down driver's power window is one of those conveniences that once you've gotten used to it, you'll never be satisfied with less.
Back seat room is lavish for two, adequate for three. If you're looking for a third row, forget it. This is a compact crossover.
The first thing that strikes you climbing into the Tucson is its reassuring feeling of harmony and simplicity. This car's chief designers and stylists may have been German, but in the Tucson there is no hint of the German tendency towards self-indulgent complexity, of making you learn all over again how to do something you already know perfectly well how to do. To the contrary, the Tucson offers excellent ergonomics, that all but lost discipline of making a car's controls self-explanatory and intuitive. This Hyundai gets an A-plus in the avoiding annoyances category.
The dashboard's black pebble-grain covering is handsome and anything but econo class. The dashboard instruments are straightforward and dignified, with a water temperature and fuel gauge delivered in electronic readouts. To the left of the steering column are controls for hill assist, a stability-control off switch and the differential locker control. Cruise control and audio switches are provided on the steering wheel, with phone controls partially hidden inside the wheel rim.
The center console is simply laid out, offering audio controls, a navigation system and Bluetooth MP3 capability. Here we encountered one weakness in the Tucson, its forward-slanting navigation screen was all but blinded by glare on sunny days. On the other hand, it is blessedly straightforward to use, with a proper radial knob provided for tuning the audio. Defrost front and rear and individual seat-heater controls are easily selected, while XM is the satellite server of choice, and it should be. Life should always be this easy. But in too many other cars, it isn't. The Tucson interior deserves an A.