2012 Jaguar XF Summary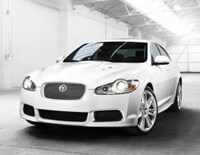 The Jaguar XF is an engaging alternative to luxury sedans such as the Audi A6, BMW 5 Series, Mercedes E-Class, and Lexus GS. The XF rises toward the top of the class with distinctive good looks, first-rate interior finish, excellent driving capability and a charm some competitors lack. The base model has more power and more standard features than competitors, while the line-topping XFR is a wicked fast sport sedan in the purest sense. All in all, the XF is one of the most appealing choices in segment loaded with great cars.
J.P. Vettraino filed this NewCarTestDrive.com report after test drives of the XF in Phoenix and Detroit. Sam Moses reported from Portland.