2012 Jaguar XJ Introduction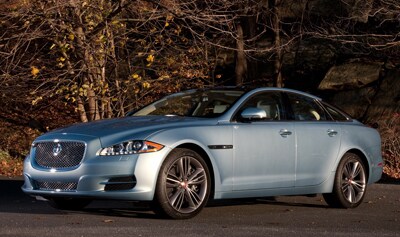 The Jaguar XJ enhances Jaguar's legacy of sporting, stylish cars. The Jaguar XJ uses a smooth and satisfying 32-valve 5.0-liter V8 making 385 horsepower (470 hp in the Supercharged model), and a silky 6-speed automatic transmission. The XJ is designed to be a performance luxury sedan that succeeds in European markets. It aims to coddle and appease the luxury buyer and provide thrilling performance for the enthusiast driver.
Completely redesigned for 2011, the Jaguar XJ carries into 2012 unchanged save for some option packaging and some new interior color combinations.
Over decades, Jaguar has developed a reputation for building low-slung sedans with an impeccable blend of handling and comfort. This latest XJ suggests they are back on track after years of XJs that were not so exciting. The XJ was awarded "Best Luxury Sedan" by Winding Road online magazine, in both 2011 and 2012.
The sleek XJ abandons the delicate roof pillars of the past, with a single flowing line from windshield to tail lamps. Longer than a BMW 7 Series or Mercedes S-Class, the Jaguar XJ won't be mistaken for anything else.
In the enveloping cabin, leather and wood are mixed in Italian shapes and English materials. Seat contour and bolstering seems appropriate to the car's mission; it's not too tight or sporty, and the driver's adjustable bolstering comes in handy on curvy roads. The standard full-length panoramic glass roof floods the cabin with natural light and offers a sense of spaciousness, as well as allowing a sleek coupe-like profile and lithe stance for which Jaguar cars are known.
The Jaguar XJL is a long-wheelbase model that adds nearly 5 inches to the overall length, with longer rear doors and glass. This increases rear legroom by 5 inches, making an expansive 44.1 inches of rear legroom total. The best ride quality comes with the Jaguar XJL with 19-inch wheels. Cars this long aren't meant to be canyon carvers or autocross warriors, but the Jaguar XJL also handles extremely well when driven hard in the corners.
Under the XJ body is a rigid and lightweight aluminum structure that contributes to this handling precision, and also to economy, acceleration, and ride comfort. Jaguar is the leader in sophisticated all-aluminum construction.
The 5.0-liter V8 engine, designed and produced at Jaguar facilities in Coventry, England, is all aluminum. It features 32 valves, direct injection, independent variable cam timing, cam profile switching, and a variable geometry inlet manifold. The 385-horsepower engine has more than enough power for any luxury sedan occasion, although you can go faster.
The Jaguar XJ Supercharged model adds 85 horsepower and 40 foot-pounds of torque, cutting one second off the 0-60 mph time, to less than 5 seconds. You have to boot the gas pedal to feel the difference, but when you do, it blows your shoes off.
The special-order Jaguar XJ Supersport adds another 40 horsepower and 40 more foot-pounds of torque. That one will blow your shoes and your socks off. The sixth-generation twin vortex Roots-type supercharger lacks the whine of old; it can't be heard because of the air intake that was designed to isolate and lose the supercharger whine.
The XJ is long-legged, meant to get up there at high speeds and stretch. It's so smooth and commanding that 90 mph feels like 70. In fact, it wants to run 90, not poke along at 70, so be careful.
The sweet 6-speed manual-automatic transmission uses adaptive gear-change strategies based on the type of road and the driver's application of the gas pedal. In manual mode, the transmission stays in the driver's chosen gear to redline, and the paddle shifts are sharp.
The XJ uses fully independent suspension, with steel springs in front for precision and air springs in back for the best level ride among varying loads. Ride quality and bump absorption is very good, even on 20-inch wheels over pock-marked roads and expansion joints. But with those 20-inch wheels and wide tires, at 70 mph the XJL tends to follow freeway grooves; at faster speeds, wide-tired Jag goes straight as an arrow.
The XJ uses big brake rotors and calipers, and giant ones on the supercharged models, with their top speed of 155 mph (electronically limited). The brakes are supported by the full suite of electronic controls. The stability control can be turned off, but we never found the need while testing the limits because the system is not intrusive at all.
The Jaguar XJ competes with the Audi A8, BMW 7 Series, Mercedes-Benz S-Class, Lexus LS, Maserati Quattroporte, Aston Martin Rapide, and Porsche Panamera.