2012 Jaguar XJ Summary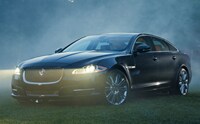 The Jaguar XJ does everything you expect in a luxury sedan, with room, amenities, quiet and thrust, with a sporty side always in the background that offers more driver interaction but one that never changes the car's personality. Eye-catching lines and serene cabins that marry contemporary design with both traditional and modern materials convey a sense of style that more antiseptic modern conveyances can only wish for, and that the XJ has the performance to back up.
Sam Moses filed this NewCarTestDrive.com report after his test drives of the XJ models near Portland, Oregon.