2012 Jaguar XK Summary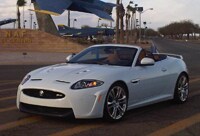 Still one of the most tasteful and able cars in its class, the Jaguar XK excels as a luxury GT. The brilliant, British 5.0-liter V8 in all its variants, along with the aluminum chassis and sophisticated suspension make for a sensational driving experience. Elegant exterior design and luxe interior pay homage to Jaguar's past while bringing it into the future. Pull up to a five-star resort in one of these and you will be given the full VIP treatment.
NewCarTestDrive.com correspondent Laura Burstein reported from San Diego after her 180-mph test drive in the XKR-S; with Sam Moses reporting from Portland on the XK convertible and XKR coupe.