2012 Jeep Grand Cherokee Driving Impressions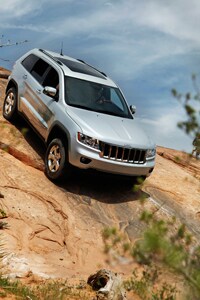 We've driven several versions of the Grand Cherokee and came away most impressed with the Laredo X with the V6 engine.
The Overland with the Hemi V8, with its teen fuel economy and base price of more than $43,000 with 4WD and before options, would have been more of a hit in 2006. About the only thing you'd need that big Hemi for is its 390 pound-feet of torque for towing more than 5000 pounds beyond rolling hills (maximum is 7200 pounds with 4WD, 7400 with 2WD). And for that, the Grand Cherokee would not be our first choice.
Compared with the Laredo V6, the Overland V8 ride is firmer on 20-inch tires, steering is heavier and less responsive on the highway, and the chrome trim detracts from the cleanliness of the styling. Plus, ours had a vibration we felt in the small of our back while accelerating in second-gear Sport mode. That's the only time it appeared, but it wasn't our imagination, our passenger felt it, too. We can't say what it means, but it shouldn't be there.
There are two automatic transmissions with manual modes. The unit matched to the V6 is called a five-speed and, like most, offers a single overdrive. It is calibrated for fuel economy (up one city mpg on 2WD and one highway on all-wheel drive for 2012). As a result it is quick to upshift and frequently kicks down out of overdrive, so in rolling terrain or varying traffic we often shifted ourselves.
For the 5.7-liter V8 it's now called a six-speed automatic, but it has the same gears in it as last year's five-speed. Confused? The old five-speed automatic had two different ratios for second gear, a 1.67:1 as it up-shifted and a 1.50:1 as it down-shifted. Now that you can (for 2012) manually select either one Jeep is calling it a six-speed automatic, but we're calling that marketing; a real six-speed automatic has benefits in performance that this one won't. The 5.7 V8 does offer two overdrives and lopes down the highway but its highway economy is matched by some midivan city ratings.
Though heavy, the chassis is quite rigid, one key to the feel of overall quality. When you combine a rigid chassis with a well-executed independent suspension, the result is a vehicle that feels like a Mercedes. In fact, design of the Grand Cherokee began in Germany years ago, when Chrysler was still Daimler-Chrysler, and some components are shared with the Mercedes M-Class SUV.
We put our Grand Cherokee Laredo through the paces, on patchy San Francisco freeways, city streets, and through some curves on the Pacific Coast Highway, and the vehicle knocked off each challenge with ease, comfort and control. We were highly impressed with the chassis and suspension.
The Laredo base model has near-ideal weight balance front to rear, and its among the nicest to drive. You'll hear Chrysler say in their marketing that quality craftsmanship has returned to the Pentastar, and the Grand Cherokee backs up the boast. The chief engineer for the Grand Cherokee worked with the Mercedes engineers in Stuttgart to gain ideas for the architecture and suspension geometry. Then the Grand Cherokee went through more final testing than was done in the past to refine the vehicle to as close as perfect as they could get it.
Despite the new model's added width and wheelbase, the turning circle remains at the same 37.1 feet as the old Grand Cherokee. This is better than the same-size M-Class or most seven-seat utes, and within inches of the 4WD seven-seat Land Rover LR4 and many minivans. On or off the highway the Jeep is maneuverable, though the ever-rounder bodywork makes it more difficult to see corners on the trail.
For 2012, the V6 adopts electro-hydraulic power steering, usually an aid to fuel economy, and it has not compromised steering feel at all.
The V6 is a double-overhead cam 3.6-liter with variable valve timing, making 290 horsepower and 260 pound-feet of torque, delivering an EPA-estimated 17 city and 23 highway miles per gallon with 2WD, or 16/22 mpg with 4WD. A huge fuel tank (24.6 gallons) allows a range of 500 miles. The V6 engine feels like a winner, silky smooth and powerful. The horsepower is welcome but a shortage of torque is why it shifts out of overdrive a lot.
We went to an off-road course during our one-day drive, and, needless to say, the Jeep was fairly dazzling. We climbed over rocks and through gulleys and crept down radically steep hillsides, terrain far more challenging than owners will want to put their pretty new Grand Cherokees through.
The Jeeps we drove were equipped with the optional Quadra-Lift air suspension that adds up to 4.1 inches of lift, using controls on the console. There are five settings: Normal ride height, with 8.1 inches of ground clearance; Off-road 1, with 9.4 inches; Off-road 2, with 10.7 inches; Park, which lowers the vehicle to 6.6 inches for loading and unloading; and Aero, at 7.5 inches, for freeway driving and better fuel economy.
An important note here that the air suspension and low-range four-wheel drive are not available on the $29,000 base all-wheel drive; plan on spending nearly $40,000 minimum for that level of trail ability. The all-wheel-drive system on base models is meant for mild off-road use and inclement weather; low-range gearing is available as an option on that model, standard on V8s.
On the off-road course, Selec-Terrain electronically coordinates 12 different powertrain, braking and suspension systems, including throttle control, transmission shift, transfer case, traction control, and electronic stability control. What this means is that a monkey could have driven the Jeep over these terrain challenges. The computers did it all. For example, down the dizzying steep dirt trail, with hill descent control, all we did was keep the steering wheel straight, using no feet at all; the car's computers did it all. And all we did to get over the rocks was gently apply the gas, and wait until the sensors made adjustments to allow the slipping wheels to find their traction. Where a dead battery in the original Jeep was merely an inconvenience it will render this one a fancy umbrella.
The SRT8 uses a 6.4-liter V8 like that in the Challenger 392 and other rear-drive SRT sedans. With 470 horsepower, 465 lb-ft of torque, a crisp-shifting automatic, full-time all-wheel drive and foot-wide sticky tires it goes quickly. Acceleration lifts the bow and braking brings some nosedive, both tradeoffs for the solid roll control to keep the big, 5200-pound box stable. Don't even think of driving it off road.
Virtually every component that affects performance, be it bodywork, cabin pieces, electronic or mechanical is addressed by SRT, resulting in a package that isn't overpowered, underbraked or unable to use its power. On the contrary, the SRT8 likes to be pitched into a turn where it takes a set and you simply stand on the gas and let the all-wheel drive sort out the traction; the dynamics are impressive at this price. Like BMW's X5M and Mercedes' AMG M-Class not to mention the Porsche Cayenne, the Grand Cherokee SRT8 proves a utility vehicle can make good time on the pavement.
Like most other 2012 SRT products the Grand Cherokee gets adaptive dampers from Bilstein, meaning a choice of Touring comfort, which is fine even for unknown winding road, and Sport, in which things are buttoned up tighter. If your race car tends to break down and you want to keep running for the weekend, this might be the best way to tow the race car to and from the track. Just use your tow vehicle as your back-up race car. And since we complained at the introduction of the last Grand Cherokee SRT8 that center exhaust outlets are useless for towing they now are at the sides where they belong. Clearly, they were listening to us.
Of course the SRT8 carries penalties typical of super-sport utility vehicles. Gas mileage is usually closer to the EPA city rating of 12, and the tires, easily used up making a heavy truck work like a sports car, are more than $440 each.