2012 Jeep Wrangler Driving Impressions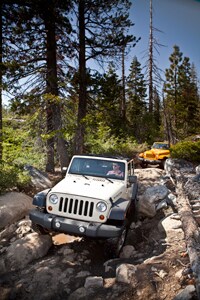 We got opportunities to gather driving impressions in a number of Wranglers, from the Unlimited in SUV-like surroundings, to the Rubicon on rock-climbing trails and the Sport on fast backroad two-lanes at night.
The Unlimited Sahara, resplendent in rich brown with dark leather, is almost astonishingly smooth and quiet, totally civilized, thanks hugely to the new engine. The 5-speed automatic is well-behaved, and doesn't hunt for gears; it uses the gear it's in. It was designed for use with Chrysler's 5.7-liter Hemi engine, now refined for the Pentastar, but still Jeep-like industrial strength. A Wrangler Unlimited Rubicon can tow 3500 pounds.
The Unlimited corners well, and head sway on weaving roads is light. You can only do so much with a solid axle and tall body. The gas-filled monotube rear shocks have been retuned for 2012 for a better balance between handling and ruggedness, and we like it.
The Unlimited gets more out of its 116-inch wheelbase, 10 inches more than a Nissan Xterra. The twitchy handling that lingers in the Wrangler because of its short 95-inch wheelbase is not present in the Wrangler Unlimited. The first pleasant surprise of the Unlimited: it doesn't feel like a Jeep.
With 285 horsepower and 260 pound-feet of torque, it seems like the Wrangler should feel more powerful, and accelerate faster. We ran a lot of high-speed two-lane miles, and our Wrangler had to work, using momentum to pass. We've driven a Chrysler 200 convertible with this same engine, and it seemed faster. Oh well, if it weren't an aerodynamic brick, it wouldn't be a Jeep. After all, there are seven boxed crossmembers in the chassis. The Rubicon with 5-speed automatic weighs an anvil-like 4130 pounds, about 500 pounds more than the Chrysler 200 convertible.
Riding a Rubicon in Oregon's Tillamook Forest, we tackled a trail that looked impossible for an unmodified vehicle off the showroom floor. Press a button to disconnect the splined front swaybar, to allow extreme angles of articulation at the wheels. Another button locks both front and rear differential. Slip it into Low Range. You've got a final drive rear-axle ratio of 4.10 in the offroad-oriented Rubicon (3.21 or 3.73 in the Sahara or Sport), and 32-inch tires. Three skid plates protect the fuel tank, transfer case and oil pans. Ground clearance is 10.1 inches at the rear axle and 10.5 inches at the front.
In some spots the best technique is to take your feet off the throttle, and just steer. At idle in Low Range, the Rubicon powers up and over obstacles that would totally stop most vehicles; even though torque peaks up at 4800 rpm, it plugs along like a tractor. A new lower first gear for 2012 in the 5-speed automatic transmission gives the Jeep more capability, with a lower overall crawl ratio.
Our Rubicon scarcely broke a sweat over rocky trails that would turn back all but the ruggedest and hardest-climbing of vehicles. We ran support for a 50k trail run in the Columbia River Gorge, over two 3500-foot peaks in Washington's Cascades, and it was a hard 12-hour day. "In my old Jeep, I would have been in misery, dying to get out," said our navigator. "But I could ride all day in this Jeep."
On the highway at 70 mph the Wrangler can be a bit twitchy. Hopping out of an Unlimited as we did where the twitchiness is absent, the twitch in the short-wheelbase Wrangler is heightened. But as soon the driver adjusts, the turns and corrections come more smoothly. When the Wrangler is pointed straight and steady, it stays that way.
There's a huge difference in how stable the Wrangler feels with the top on and off. With T-tops removed, at 65 mph it beats you up; but with the top on it feels smooth at 75 and beyond.
Keep in mind that the Sport, Sahara and Rubicon models have different tires and shock absorbers, and this changes their character significantly. Our Rubicon was great at high speed, either in spite of or because of its heavy-duty tires and shocks.
The Wrangler is no gas-mileage champ. Running it hard, it averaged 18 mpg. It's EPA-estimated at 17/21 mpg Wrangler and 16/20 mpg Unlimited, City/Highway.
The 6-speed manual transmission, German-made, isn't as friendly as the 5-speed automatic, American-made. To accommodate the new V6, there's a new clutch with long travel at the pedal, sometimes awkwardly long. The throw is way long at the lever, too. However, real men don't drive Jeeps with automatics.