2012 Jeep Wrangler Introduction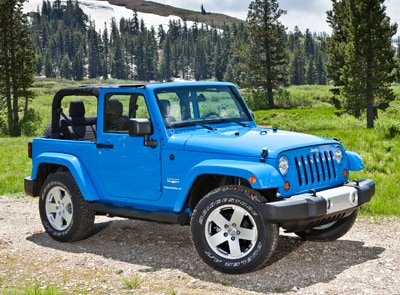 The 2012 Jeep Wrangler is a game-changer because of its new powertrain that moves Jeep out of the dark ages. It's the Pentastar V6, new last year to Chrysler, named one of Ward's 10 Best Engines for 2011. The new engine makes considerably more power with slightly better fuel mileage, an EPA-estimated 17 City/21 Highway mpg. It's smaller, lighter, and more advanced than the engine it replaces.
A smooth new 5-speed automatic transmission for 2012 replaces last year's inadequate 4-speed. The transmission is well behaved and doesn't hunt for gears. It was designed for use with Chrysler's 5.7-liter Hemi engine, so it maintains Jeep-like industrial strength. A Wrangler Unlimited Rubicon is rated to tow 3500 pounds.
The 2012 Wrangler Unlimited four-door is totally civilized, thanks partly to the smoothness of the new engine. The Pentastar block was designed to have accessories bolted to it, to reduce vibration. This pays off with a smooth and silent interior, even at 80 mph in the hardtop Wrangler. The Wrangler Unlimited corners well. The Wrangler Unlimited is built on a wheelbase that's 21 inches longer than that of the regular Wrangler.
The soft top that comes standard slides and folds horizontally on the roof, leaving the occupants further protected by door and window frames, although there's already a rollbar. The available removable hardtop comes off in 3 pieces, like T-tops and a sunroof over the rear seat. With T-tops removed, at 65 mph it beats you up; but with the top on it feels smooth at 75 and beyond.
In the popular two-door Wrangler there's very little storage space behind the rear seat, so four people with four medium backpacks is filled to overflowing. But if it's just you and some stuff, the rear seat can be removed, creating a spacious 61.2 cubic feet of cargo space. Same with the four-door Unlimited, making 87 cubic feet.
Wranglers are available with all the electronic trimmings, including a $1035 Media Center with navigation and touch screen, but the screen doesn't work well with the simple rough Jeep; for starters, with the top removed, the screen is erased by the sun. It's a challenge to tune the radio by touch-screen in a bouncing Jeep.
Even with 285 horsepower and 260 pound-feet of torque, the Wrangler has to work hard on two-lanes. But a lack of neck-snapping acceleration must be compared to what it had before. And if it weren't an aerodynamic brick, it wouldn't be a Jeep. There are seven boxed crossmembers in the chassis adding strength but weight. The Rubicon with 5-speed automatic weighs an anvil-like 4130 pounds.
Riding a Rubicon in Oregon's Tillamook Forest, we tackled a trail that looked impossible for a vehicle off the showroom floor. Later, another Wrangler Rubicon scarcely broke a sweat on rocky trails crossing peaks in Washington's Cascades. Our passenger, a former Wrangler owner, was astonished by the comfort level.
The Wrangler is no gas-mileage champ. Running it hard, it averaged 18 mpg for us. It's EPA estimated at 17/21 mpg Wrangler and 16/20 mpg Unlimited.