2012 Jeep Wrangler Walk Around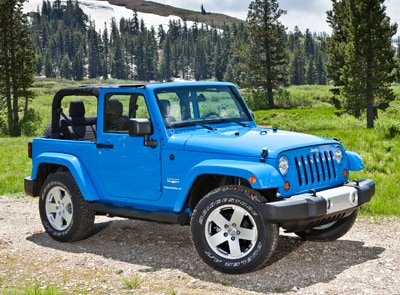 The 2012 Wrangler looks like a Jeep, and when that can't be said, it's time to worry. It may be the most recognizable vehicle in the world. Even the Unlimited four-door, whether hard top or soft top looks like a Jeep. Round headlamps, 7-slot grille, wheel flares, removable doors, bolt-on fenders, fold-down windshield. Meanwhile, the Wrangler Unlimited is the only four-door 4×4 convertible on the market.
The soft top slides and folds horizontally on the roof, leaving the occupants further protected by door and window frames, although there's already a rollbar. The hardtop is $735 option; it comes off in 3 pieces, like T-tops and a sunroof over the rear seat. We spent a summer day on Jeep trails in the Northwest in a Wrangler Rubicon with all three parts removed, and it was fabulous. The body-colored hardtop is new to the Rubicon in 2012. The soft top remains the sportiest in appearance. We think the hard top is better for hunters, fishermen or other outdoorsmen, however, because it provides better security for your outdoor gear in shopping center parking lots against thieves and better security for your food in camp against bears. Can't decide or want both? The Dual Top option allows buyers to get both.
Pretty new colors for 2012 are Dozer Yellow (nice blend of Corvette Yellow and Porsche Mustard, and a favorite for pilots in search planes), Deep Molten Red, and Crush Orange (another search party favorite). Our Rubicon was Cosmos Blue, like French Racing Blue, a color that almost brings grace to the ol' Jeep. Standard colors are available for those who want to blend into the environment, whether suburban or bucolic.
Interior
The Jeep Wrangler interior was revised and dressed up for 2011. There are no significant changes inside for 2012.
We lived in a hardtop Wrangler for a week and it was all good, comfort-wise. With the top off there was a lot of wind buffeting in the back seat, but aside from that the Wrangler "is more comfortable than my Jetta," said our passenger, riding shotgun on rocky trails for a day.
We also got seat time in a Wrangler Unlimited Sahara, roomy and comfortable, with leather, still every bit a Jeep. Good rear legroom, easy to climb in and out. The rear 60/40 seat folds or can be removed to create 87 cubic feet of cargo space, comparable to a Toyota 4Runner.
The Pentastar engine block was designed to have accessories bolted to it, to reduce vibration. This clearly pays off with a smooth and silent interior, even at 80 mph in the hardtop Wrangler.
The center console was raised to make a better armrest, although now you have to raise your elbow when using the shift lever. Gears in the 5-speed automatic can be changed manually, with side-to-side movement of the lever.
There's very little storage space behind the rear seat, so four people with four medium backpacks is filled to overflowing. But if it's just you and some stuff, the rear seat can be removed, creating a spacious 61.2 cubic feet of cargo space.
Our Wrangler was equipped with $1035 Media Center option, and if you go offroad or take the top down much, you won't like it. The touch screen is invisible in the sun, and in a bouncing Jeep it's not easy to land your finger where you want it, even trying to tune the radio. A Jeep needs knobs you can grab. And for all the 6.5-inch size of the screen, with some functions only about 40 percent of the screen is used, tiny little radio words, the other 60 percent says JEEP.
The navigation system in the Media Center is fairly simple in its display. It didn't make any errors on the routes we programmed, although finding the button to enter destination was maddening. We suggest you skip the Media Center, be satisfied with six speakers in the standard sound system, and get your own GPS for navigation. It's a Jeep-like choice.
We went trail climbing in Oregon's Tillamook Forest with a Wrangler Rubicon. Look ma, no doors.