2012 Kia Optima Introduction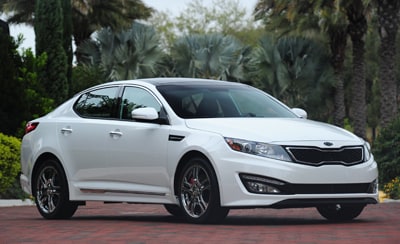 Kia Optima is a freshly redesigned midsize sedan that comes in three versions. The Kia Optima was redesigned for 2011. The 2011 Optima lineup included a compelling EX base model and a Turbo model that proved to be a hit.
The 2012 Optima lineup adds a Hybrid version using a 2.4-liter I4 Atkinson cycle gas engine that produces 166 horsepower with an electric motor with 40 horsepower. The 2012 Kia Optima Hybrid gets an EPA-estimated 35/40 miles per gallon City/Highway.
Optima is at the forefront of midsize design: sleek and muscular, with none of the odd feel that sometimes characterizes new Asian cars. It is a car of finesse, with distinguished aesthetics, except for that grille.
Inside, the interior appointments and materials are handsome, generous, and of high quality, overall. Beautiful leather adorns the dashboard and seating, comfortable with firm support, including the rear. The design and layout of the instrumentation reflect thought and employ the latest technology. Legible, jewel-like instruments signal that this is no bland commuter module, though the Optima does make a good commuter module. The expected conveniences are all there, plus bonuses such as a cooled glove compartment for keeping beverages cool.
Optima offers heated/cooled seating, navigation with rearview camera, paddle-shifter transmission, and an extra-large panoramic sunroof. Connectivity conveniences include satellite radio, USB audio input jacks and Bluetooth wireless, with steering wheel voice activation controls that deliver hands-free phone operation.
Optima uses front-wheel drive and a four-wheel independent suspension that is athletic and responsive. We found the ride quality compliant over rougher pavement, filtering out harshness, while the suspension accurately communicates smaller bumps and ripples. The chassis is good, and although Optima is no performance sedan, its handling has a sporty glimmer.
The Kia Optima EX, the base trim and most common model, uses a 2.4-liter four-cylinder making 200 horsepower. This engine is short on excitement, but it's fine for most drivers. Quiet at highway cruising speeds, it delivers enough power to keep up with fast traffic on the freeways, while delivering an EPA-estimated 24/35 mpg City/Highway.
The 274-hp Optima Turbo sweetly carries this sedan into another world. The Optima Turbo's performance, stability and agility are first rate, and its silky smooth engine is amazing for a 2.0-liter four-cylinder. It squirts from 0 to 60 in 6.5 seconds, very quick indeed, and through the quarter-mile in 14.8 seconds.
The Optima Hybrid drags Optima back into a third world. Its EPA estimated mileage is 35/40 miles per gallon. However, we only got 25.5 mpg during our lead-footed stint. The 6-speed automatic transmission was rough, which we blame on its electronic programming.
Optima Hybrid uses a 2.4-liter four-cylinder Atkinson cycle gas engine that produces 166 horsepower connected by a wet clutch to an Interior Permanent Magnet (IPM) synchronous electric motor producing 40 horsepower. The battery that powers the electric motor is state of the art, a 270V lithium-polymer (Li-PB) battery. Compared to a nickel metal hydride system, this 95-pound Li-PB system is 20-30 percent lighter, 40 percent smaller, holds a charge 25 percent longer, is 10 percent more efficient, and offers twice the power density. The warranty is good for up to 10 years or 150,000 miles. It's a hybrid, so you don't need to plug it in. Just fill it with gas and go.