2012 Kia Rio Introduction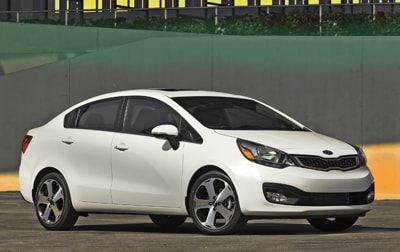 Completely redesigned for 2012, the Kia Rio comes ready to pick a fight with anyone in the subcompact segment, armed not only with good numbers in terms of power, fuel economy, warranty and price, but also with a degree of style and, dare we say, refinement not often found in inexpensive cars.
The 2012 Rio four-door sedan and Rio 5-door hatchback versions share styling influences but not all details; with different grilles, tails and side scallops they look more like siblings than twins. Compared with other subcompacts, the Rio models are wider, have a longer wheelbase, shorter overall length and lower roofline; only Nissan's Versa is considerably bigger outside.
Cabins are nicely put together, easy to live with and not overwrought with gimmicky styling. What conveniences aren't standard are usually available and anyone can quickly master the controls. Both models offer useful space. We favor the hatch merely for added load flexibility and maneuverability. Interior room stacks up well against competitors; the Rio is best in terms of front legroom but offers the least rear legroom.
The 2012 Kia Rio mechanicals go a step better than econocar basic. Its 1.6-liter engine uses direct injection to aid power and fuel economy, resulting in the best horsepower in the segment and fuel economy highway ratings in the 40-mpg range. An optional Idle Stop and Go system, typically reserved for more expensive cars, automatically turns the engine off and on at long stops, saving more fuel for urban drivers and reducing emissions.
Rio's 6-speed manual and automatic transmissions and all-disc brakes are uncommon in this bracket, as are its available 17-inch wheels. Suspension is conventional in design, delivering a ride suitable for long commutes and behavior suitable for the class.
Kia's reputation for value is carried on by standard features such as air conditioning and power heated mirrors. Mid-line Rio models have Bluetooth as standard. Upgrades include navigation, UVO infotainment by Microsoft, rear camera, leather upholstery and heated front seats. Like a Mini you can get big-car features in a small car; unlike a Mini you don't pay through the nose for it.
The 2012 Kia Rio is classed as a subcompact and competes against the Ford Fiesta, Chevrolet Sonic, Hyundai Accent, Nissan Versa, Honda Fit, and Toyota Yaris. Kia says they used the European Ford Fiesta and Peugeot 207 as comparative targets, a good neighborhood to aim for and one our initial impressions say they are competitive with.