2012 Kia Sorento Introduction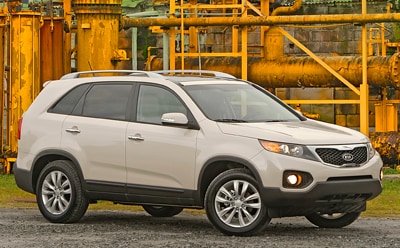 The Kia Sorento is a fully equipped midsize crossover SUV that's smooth and quiet, with responsive handling. The 2012 Sorento is available with a new four-cylinder engine that delivers excellent fuel economy, while V6 models are available that deliver strong acceleration performance. All-wheel drive is available for sure-footed traction in wintry conditions. Sorento can be ordered as a three-row model that seats seven or a two-row model that seats five.
Completely redesigned for the 2011, the Kia Sorento cruises into the 2012 model year offering a new engine that improves power and fuel economy. 2012 Kia Sorento models also offer a new voice-activated infotainment system designed to help the driver stay connected with the digital universe without distracting from the road ahead, and the available cloth upholstery has been upgraded.
The Sorento is designed to compete with the Chevrolet Equinox, Toyota Highlander, Ford Edge, and Honda Pilot, and it offers a good value when compared with these midsize crossovers.
This second-generation Sorento is much more like a car than before, benefiting from tight, lightweight, rattle-free unibody construction. The first-generation 2003-2009 Sorento was a truck-based, go-anywhere sport-utility, but it was completely re-engineered with a totally new structure for 2011. It's 600 pounds lighter than its truck-based predecessor yet it's roomier in most interior dimensions and offers greater cargo capacity.
During our test drive, we found the latest Sorento quiet, its rigid structure providing an impressive feeling of sturdiness. The suspension is nicely tuned to muffle rough pavement. On winding roads, it feels decently agile and easy to control with perfect steering feel.
The base engine is a 2.4-liter four-cylinder with port fuel injection. It delivers adequate performance and adequate fuel economy, achieving an EPA-estimated 21/27 mpg City/Highway with AWD. For 2012, there's a new 2.4-liter GDI four-cylinder with more power and an EPA-rated 21/28 mpg with AWD. The top-line V6 delivers spirited performance, putting the Sorento at or near the front of its class, although EPA estimates drop to 18/24 mpg with AWD.
The exterior styling of the Kia Sorento is crisp, freshly contemporary. Looking over its uniformly accurate body-panel gaps suggests Kia is paying close attention to the industry's ever-higher build-quality standards.
2012 Kia Sorento EX models come with a new voice-activated infotainment system called UVO based on the Microsoft Windows Embedded Automotive platform. 2012 Sorento models with cloth upholstery come standard with new YES Essentials fabrics, which provide anti-bacterial, anti-soil, and anti-static properties. A deluxe Sorento SX variant was added late in the 2011 model year and continues into 2012. The manual-shift base model has been discontinued for 2012. A 6-speed automatic transmission is standard on all 2012 Kia Sorento models.
While not intended as an off-road vehicle, a four-wheel-drive Sorento with its 7.5-inch ground clearance would be happy to head out over open desert with no thought of turning back. Furthermore, if you live in vertical country, hill start-assist control and downhill brake control, standard across the Sorento line, will make life easier.
Inside the Sorento is a roomy cabin with a rich inventory of occupant-convenience technologies, including voice-actuated navigation. The interior features quality materials, attractive design themes and handsome color schemes. Leather upholstery is available.
For back-seat riders, Sorento offers separate front and rear air conditioning controls. To keep the front-row proprietors amused, the well appointed Sorento features an AM/FM/satellite/CD/MP3 (or add available high-power 10-speaker Infinity audio), Bluetooth connectivity, USB audio input jacks, steering wheel-mounted audio controls. The available rearview camera displays what's behind the vehicle when backing up either in the rearview mirror or on the navigation screen, if ordered.
The new four-cylinder engine features gasoline direct fuel injection (GDI), providing 11 percent more horsepower and an EPA-estimated 32 mpg Highway rating. The GDI four-cylinder will be the Sorento's mid-range power source, with a conventional port-injection four-cylinder as the base engine and a V6 as the premium choice.
The 2012 Sorento boasts being listed as a Top Safety Pick by the Insurance Institute for Highway Safety (IIHS). Built in the United States, the Sorento is the first Kia model to sell more than 100,000 units in a single year.