2012 Kia Soul Introduction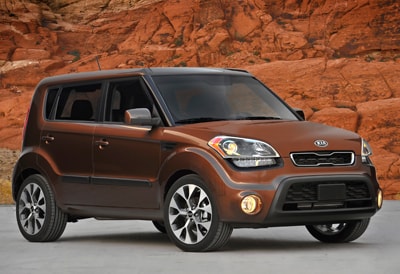 The 2012 Kia Soul boasts new engines and fresh styling. The Soul is an inexpensive box-shaped runabout aimed ay Gen Y but perfectly suitable for anyone young at heart. Youthful styling ranks high with these buyers, but so do fuel economy, daily practicality, useful standard features like Bluetooth, and good warranty protection.
Lest the Soul doesn't stand out enough for you Kia offers plenty of personalization, with many accessories and ways to attach your identity to your Soul. Their goal with the Soul is to stand out in a sea of sameness, though the basic shape goes some way to that end.
Kia makes no pretenses about what the Soul is: a car. It's not a compact utility, aka cute-ute, SUV, crossover or van. The mechanical basis of the Soul is similar to a small sedan, and no all-wheel or four-wheel drive is offered.
For 2012, the styling has been freshened.
The big news for the 2012 Kia Soul, however, is under the hood. Two new engines are the same size as their predecessors but deliver more horsepower: 138 hp for the 1.6-liter (up from 122) and 164 hp for the 2.0-liter (up from 142). New transmissions help improve mileage by 1-4 mpg whether automatic or manual, to 27/35 mpg for the 1.6-liter and 26/34 mpg for the 2.0-liter.
Pricing for the Soul has increased because of the new engines and transmissions and we think the upgrades worth it. The base Soul uses the 1.6-liter engine with manual transmission; an automatic adds $1,800 because other equipment is included. The 1.6 is a viable alternative, offering the power of last year's 2.0-liter, but a Soul with the 2.0-liter manual is just $600 more than the base Soul automatic, and many buyers will find the slight mpg and cost penalties well worth it.
We found the Soul felt nimble and light, fun to drive. The lines are smooth and stylish, for a box, and the interior is notably clean and functional. Standard equipment includes six airbags, ABS, and electronic stability control to help keep you safe. The Sport model has been dropped for 2012 but this leaves no hole in the lineup.