2012 Land Rover LR4 Summary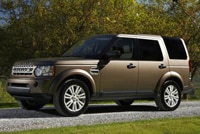 The Land Rover LR4 delivers phenomenal off-road capability, luxury, comfort and panache. Its high-tech V8 engine offers an abundance of power and torque, although gas mileage is low because of the LR4's weight and shape. The ride is exceptionally smooth, handling good, considering its size, brakes are big, and safety is at the top of the heap. The interior materials and comfort are first class, and cargo capacity with the fold-flat second and third rows massive. The LR4 is simply untouchable in its off-road and foul-weather capability.
Sam Moses contributed to this report after his test drive of the Land Rover LR4 in Washington's Columbia River Valley; with Jim McCraw reporting from Scotland.