2012 Land Rover Range Rover Sport Driving Impressions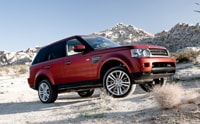 The Range Rover Sport's 375-hp 5.0-liter V8 engine and 6-speed automatic transmission will hurl the 5500-pound truck from 0 to 60 mph in only 7.2 seconds. More noticeable for daily driving is the incredibly strong acceleration performance available at highway speeds for passing, and it's wonderfully smooth.
Land Rover's engine is modified from the Jaguar design with a deeper oil pan to keep lubrication continuous when the vehicle is tilted steep angles, off road. To further prepare it for rugged duty, all of the electric motors, pulleys and bearings, plus the starter, alternator and air conditioning compressor, have been waterproofed. This enables the Sport to travel through water 27 inches deep.
The ZF 6-speed automatic transmission shifts very quickly and smoothly, up or down, with Normal, Sport and Manual modes. The Supercharged adds paddle shifters
Land Rover developed the Range Rover Sport air suspension and the optional adaptive damping shock absorbers on the famous Nordschleife, the northern loop of the Nurburgring circuit in Germany, and it shows through to the average driver on a twisty country road. SUVs of this height and heft are not supposed to handle this well in the curves, and with so little body roll. There are limits, of course; but they're higher than one has a right to expect. The 20-inch low-profile Michelin tires on our Sport undoubtedly helped. We think we'd prefer the taller sidewalls of the 19-inch wheels for all around use, however.
The Terrain Response system has five settings: Highway, Grass/Gravel/Snow, Mud/Ruts, Sand, and Rock Crawl. All you have to do is look out the windshield and select for the correct terrain, and the Range Rover Sport will drive accordingly, including setting the suspension height.
Our test drive included two days of driving off road in Colorado's San Juan Mountains over trails that exceeded 13,000 feet. The rock-crawling challenges we faced were very challenging yet there was nothing that caused our Sport to even pause, except maybe the dangers that we perceived when we climbed out to peer over the cliffs we might drop over if we made a big mistake. With guidance from Land Rover instructors riding shotgun, we saw first-hand the amazing things the Range Rover Sport was capable of, and how the Terrain Response system found traction in any situation, including climbing up steep bare rock covered with dust. Suffice it to say that you're unlikely to ever get stuck in the mud.
We used Hill Descent Control much of the time, and it worked flawlessly to keep us out of trouble on steep downhill rocky paths. Gradient Acceleration Control kicks in to keep the car from going too fast, when Hill Descent Control isn't set. And climbing up, we used Hill Start Assist, to keep from sliding back when we went from the brake pedal to the gas.
The Supercharged model uses the latest generation of Eaton supercharger, a twin vortex, with dual intercoolers. It also takes big Brembo brakes, with six-piston calipers in front. What this means is that it will accelerate from 0 to 60 in an eye-popping 5.9 seconds, and get back to a standstill in short space and without a groan.
The Range Rover Sport meets ULEV2 emissions requirements, and is rated to tow 7700 pounds. Trailer Stability Assist is an option that works like stability control; sensors detect oscillation in the trailer, and use throttle intervention and braking to get the trailer to stop weaving.