2012 Land Rover Range Rover Driving Impressions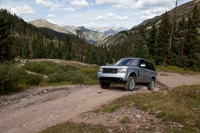 All Range Rover models use the same compact 5.0-liter V8 that powers Jaguar sedans, with the latest technology including double overhead cams, 32 valves, variable valve timing, and direct fuel injection. The Range Rover engines are specially prepared to handle extreme tilts, water fording and extreme weather conditions.
The Range Rover HSE uses a normally aspirated 385 horsepower version with 380 foot-pounds of torque. It accelerates from 0 to 60 mph in 7.2 seconds, a pace that's more than quick enough for safe passing. The engine sounds wonderful and feels blissfully smooth at full throttle, and is nearly soundless at cruising speeds.
The Range Rover Supercharged takes that engine and adds the latest generation of Eaton supercharger, boosting the power to 510 horsepower and 461 foot-pounds of torque. The acceleration leaps from 0 to 60 in 5.9 seconds, which is hot rod territory, for this SUV weighing nearly three tons.
All models use a ZF 6-speed automatic transmission, which features Normal, Sport and Manual modes. We found it effortless and unrestrained, and it shifts quickly in response to throttle input. There's a two-speed locking transfer case that can be shifted on the fly.
The steering and suspension systems are nearly faultless, as long as you're not trying to treat the big SUV like it's a sports car. Lots of power-steering assist is needed for quick left-right moves at low speeds and off-road, but less is needed as speeds climb. The Range Rover is a tall, heavy vehicle, but it takes extreme maneuvers in stride. It works better to drive it in a stately manner.
We found the ride quality of the Range Rover HSE to be about perfect. The suspension uses electronically controlled air springs and shock absorbers. We found the HSE provided excellent handling and little body roll in corners, especially for a hefty truck that rides this high off the ground and has a high center of gravity. The ride is smooth and the steering response is good, if not sports-car-like. It's a wonderful mix of luxury, silence and serenity.
But it should be. Listen to all the things working for you: Dynamic systems include All-terrain Dynamic Stability Control (DSC), Enhanced Understeer Control (EUC), Electronic Rear Brake Boost (ERBB), Cornering Brake Control (CBC), Roll Stability Control (RSC), Hill Descent Control (HDC) and Gradient Release Control (GRC), Hill Start Assist (HSA) and Gradient Acceleration Control (GAC). It's a lot of alphabet soup, but it all works together both to increase capability and to make up for occasional deficiencies in the driving department.
The Terrain Response system has five settings: Highway, Grass/Gravel/Snow, Mud/Ruts, Sand, and Rock Crawl. All you have to do is look out the windshield, assess the terrain, and select the appropriate setting. The Range Rover will drive accordingly, including setting the suspension height.
We also got to test drive a Range Rover Supercharged model. Just going down the highway, it was delightful. The huge tires are very quiet, and they combine with the electronically controlled air suspension and premium Bilstein Damptronic adaptive damping shock absorbers to deliver an extremely plush luxury-car ride, sampling the roadway 500 times per second and changing shock rates accordingly, each corner acting independently of the other three.
In consideration of its 140-mph top speed, the brakes on the Supercharged are big Brembos, with six-piston calipers in front. We found them extremely powerful, and very progressive and sensitive to conditions.