2012 Land Rover LR4 Introduction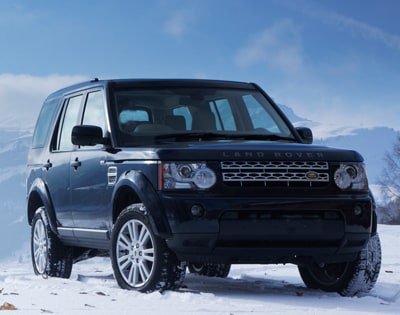 The Land Rover LR4 offers amazing off-road capability yet on the road it is quiet and comfortable. Inside is a leather-appointed cabin that coddles passengers in luxury.
LR4 is still fresh from a complete redesign for 2010. Since then, Land Rover has focused on upgrading its high-tech functions. For 2012, the electrical architecture was redesigned to employ the latest infotainment functions and other technology.
The 2012 Land Rover LR4 comes standard with a harman/kardon audio system that has been upgraded to 380 watts and 14 speakers. The top optional system for the 2012 LR4 now blasts 825 watts through 17 speakers. Steering wheel stalks have been revised for 2012 for easier use and higher quality appearance.
The 2012 Land Rover LR4 HSE comes standard with a hard-drive navigation system with updated graphics for more user-friendly operation. Also redesigned for 2012 is the driver information screen within the instrument cluster, which can displays audio information, phone book entries and navigational direction symbols (augmenting the main navigation screen).
The LR4 seats five but can seat seven when equipped with an available third row. The LR4 is a midsize luxury sport utility, a class that includes the Lexus RX 350, Mercedes-Benz GLK, Audi Q5, Acura MDX, and BMW X5.
The Land Rover LR4 and Range Rover Sport share platforms, powertrains, drive systems and sophisticated suspensions. The LR4 comes standard with slightly less luxury equipment than does the Sport, though most of those features are available as options. The LR4's wheelbase is more than five inches longer than that of the Range Rover Sport yet the LR4 is only two inches longer overall. The LR4 has short front and rear overhangs to avoid damage in rugged terrain.
The LR4's looks are distinctively Land Rover. It's a happy, familiar shape that manages to pull off both boxy and, thanks to rounded edges at every opportunity, svelte if not sleek.
The cabin is a complete success in terms of comfort, luxury and utility. Everything is lush to the eye and hand, and the quality of the interior materials is a high as it gets, beautifully fit and finished.
Underway, the Land Rover LR4 is very comfortable and quiet. The LR4's capability off road is nothing short of phenomenal. Its suspension articulation coupled with the latest in traction control technology allow the LR4 to creep over extremely rugged terrain, the worst off-road trails, the most primitive of roads, and in all kinds of weather.
The Land Rover LR4 comes with a 5.0-liter 32-valve V8 with direct injection and variable camshaft timing, making 375 horsepower and 375 foot-pounds of torque. The 6-speed automatic transmission shifts sharply, and has Normal, Sport and Manual modes. The LR4 can accelerate from 0 to 60 mph in only 7.5 seconds, a sprightly pace given the LR4's weight of about 5850 pounds.
All LR4 models come with full-time all-wheel drive with a selectable low range, although it's an understatement to describe the Land Rover's state-of-the-art traction-control system so simply. For off-highway travel, the electronic two-speed transfer case can be shifted on the fly. But the magic is in the Terrain Response System, with its five settings: Highway, Grass/Gravel/Snow, Mud/Ruts, Sand, and Rock Crawl. All you have to do is look out the windshield, select the correct setting for the terrain, and the LR4 will coordinate all of its off-road technology accordingly, including setting the suspension height. The system also includes Hill Start Assist and Gradient Acceleration control, which helps maintain downhill speeds on rough or slippery terrain when Hill Descent Control isn't set. If you want to drive to Tierra del Fuego, an LR4 would be a great choice.
The LR4 meets the government's ULEV2 emissions requirements, meaning it's greener than required by law. It's no economy vehicle, however, with an EPA rating of 12/17 mpg City/Highway.