2012 Land Rover Range Rover Introduction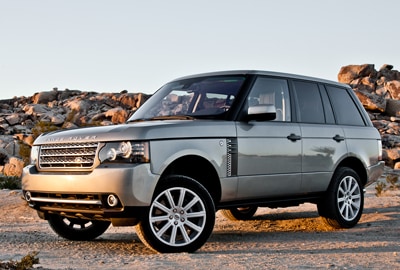 The Range Rover represents the top of the line for Land Rover. The current-generation Range Rover has been with us nearly 10 years, since the 2003 model year, yet it still feels fresh, it still feels like a superb vehicle, and it's still one of our favorite new vehicles. It's classy and luxurious, it's smooth, it's incredibly powerful particularly in supercharged form, and it is amazingly capable off road.
The 2012 Range Rover lineup includes a new top-line model called the Autobiography Ultimate Edition. Swathed in soft-feel semi-aniline leather, its four power-adjustable bucket seats flank a full-length console that incorporates a machined aluminum laptop table, a drink chiller, separate rear-seat climate controls and more. Two Apple iPads are linked to the rear-seat entertainment system. Oxford leather covers the door casings, dashboard, and steering wheel, and the wood inlays in the dash and doors is genuine Kalahari. Even the luggage floor is special, paneled like speedboat's deck in teak, with metal and leather detailing. Each Autobiography Ultimate Edition will be built to order, and only 500 will be sold globally.
2012 Range Rovers come with HD Radio and an iPod lead, and a new Towing Package is available.
The Range Rover's off-road capability is downright astounding, thanks to its Terrain Response electronic all-wheel drive and suspension system. The system includes Hill Start Assist and Gradient Acceleration Control. Range Rovers can scramble up rocky mountainsides, cross rivers and traverse mud bogs. They are easy to drive and instill confidence.
The Range Rover interior is rich and beautiful. There are premium materials everywhere you look and touch. The leather seats are tall and supportive in all the right places, and there is a nearly infinite amount of adjustment. The steering wheel carries buttons galore for cruise control, telephone and audio, two of which are up-down-left-right selectors for display and information functions. All the rotary switches on the instrument panel are hefty, and scalloped so they can be used with gloved hands. Options include power reclining rear seats and a 1200-watt harman/kardon sound system.
For 2012, the 5.0-liter V8 engine offers more power, now rated at 385 horsepower and 380 pound-feet of torque. Land Rover says it can accelerate from 0-60 mph in just 7.2 seconds. That is plenty fast for anyone in the real world, and plenty impressive for a 5700-pound vehicle. We found the engine beautifully smooth.
The Range Rover Supercharged model blows 510 horsepower out of the engine and gets to 60 mph in 5.9 seconds. We found the performance of the Supercharged Range Rover scintillating. It's an off-road rocket ship, with 460 pound-feet of torque available for passing or towing.
All Range Rover models come with a 6-speed automatic transmission that's velvety smooth yet very responsive.
The Supercharged uses powerful six-piston Brembo brakes, which will slow the truck safely whether braking repeatedly down a curvy mountain road or coming to a straight, quick stop from high speed. Naturally, they're supported by a sophisticated anti-lock brake system that's behind Hill Descent Control and Gradient Acceleration Control. Both are features that enhance safety on icy streets, not just off road.
We've found few four-wheel-drive vehicles combine this level of acceleration and braking with a hushed, plush highway ride in a roomy cocoon of high-grade leather and wood. Whether crossing the Gobi Desert at night or negotiating Manhattan during the daily rush, the Range Rover is at ease.