2012 Lexus ES Driving Impressions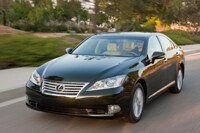 The Lexus ES 350 engine is silky smooth and comes paired with a 6-speed automatic. The 3.5-liter V6 is an all-aluminum, double overhead-cam engine with all the latest technologies.
Step on the gas pedal and the ES 350 is quick to respond. The engine is as smooth and quiet as you would expect, and the transmission operation is flawless, in automatic or manual mode, downshifting or upshifting. The engine and transmission are isolation-mounted with an electro-hydraulic system to cancel vibration at idle. Lexus quotes a 0 to 60 mph time of 7.0 seconds, which we consider brisk performance and competitive in the segment.
Traction control and electronic stability control add to the driver's confidence. The front struts and multi-link rear suspension are both very well isolated from the rest of the car, making for a quiet, smooth ride, with good control of pitch and body roll during enthusiastic driving. We'd like a little more steering feel in corners and on the highway, but otherwise the speed-related power steering is good and solid.
The brakes are average in size for this class, but we saw no sign of brake fade after a hard workout. The ABS, traction control, and electronic stability control are programmed to intervene early to keep the car going in the intended direction.
There's a brake override system called Smart Stop, which automatically reduces engine power when the brake pedal and the accelerator pedal are applied simultaneously under certain driving conditions.