2012 Lexus ES Introduction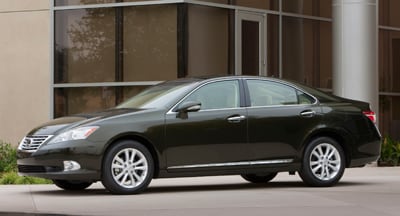 The 2012 Lexus ES comes as one model, the ES 350 with a 3.5-liter V6 and front-wheel drive. A near-luxury sedan, the Lexus ES favors ride quality and ease of use over performance.
The Lexus ES 350 is smooth, quiet, sophisticated, competent, and comfortable. It doesn't have the firm ride or quick responses of a German sports sedan, so you can safely sip a cappuccino on the way to work. The ride is smooth and even, the engine is velvety and powerful, the 6-speed automatic transmission is flawless, the comfort is supreme, the trip is quiet, everything works the way it's supposed to, the total experience is superb.
Based on the same platform as the Toyota Camry, the Lexus ES 350 uses front-wheel drive and doesn't offer the sporting qualities of a rear-wheel-drive sports sedan, such as the Cadillac CTS, Infiniti G, and BMW 3 Series.
The ES 350 is quick and responsive, however, benefiting from a silky V6 engine that makes 268 horsepower and 248 pound-feet of torque. Lexus says the ES 350 can accelerate from 0 to 60 mph in 7.0 seconds, a solid performance.
Fuel economy is an EPA-estimated 19/28 mpg City/Highway or 22 mg Combined, on regular gas. In one week of driving, we got 23.4 mpg running it over 70 on the freeway, and 26.0 mpg running it no more than 70. The ES 350 is certified Ultra-Low Emission Vehicle II.
There are no changes for 2012. The Lexus ES was last redesigned for the 2007 model year, and freshened for 2010. The current model is getting long in the tooth and is about due for a redesign.