2012 Lexus ES Walk Around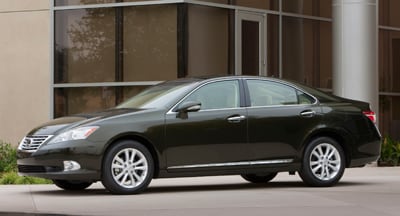 The ES 350 form seems to emanate from the grille and flow back over the car in unbroken lines. The look includes a wind-tunnel-proven drag coefficient of just 0.28, making the ES 350 inherently quiet and fuel-efficient.
It's sleek, elegant, luxurious, and very well detailed. There's quite a bit of sculpting of metal going on along the sides, lending a lot of visual interest without making it seem overly detailed or finicky. It has the look of a high-end car.
Over time, the ES 350 has grown to where it is now a full-fledged luxury sedan, both in size and content. And it has an upscale look that is entirely appropriate for its market segment. Part of this is helped by its relatively long wheelbase, which adds to its impressive stance.
About the only exterior customizing you can do other than paint and wheels is a choice of forward lighting, from standard projector beam to optional High Intensity Discharge headlamps with an adaptive lighting function, which swings the headlamps through an arc of up to 15 degrees when turning. There are 10 exterior colors from which to choose, from fairly subdued tones to a quite bright red, which makes the ES 350 really stand out.
Interior
The Lexus ES 350 is roomy and comfortable, with ample headroom and legroom for both front and rear-seat passengers. Its rear floor is flat and has plenty of room for feet under the backs of the front seats.
The interior of the ES 350 is superb, with good sightlines, hooded instruments and crisp graphics, 10-way power seats and standard tilt/telescope steering wheel. Fit and finish inside are exemplary.
The real wood trim is from a matched set that is serial-numbered for future replacement, if necessary. The thick, fat steering wheel is a pleasure to use. Interior wood trim is bird's-eye maple with black or gray leather, brown walnut with parchment leather.
The instrument panel and center stack are driver-centered, engaging and functional. The instruments are deeply tunneled, using white LED lighting and the Optitron electroluminescent displays that are part of all Lexus models, with their eye-pleasing startup routine. The trip computer monitors a dozen functions. The ES features push-button engine starting and the SmartAccess key fob.
There's good storage, steering-wheel controls, and the use of various functions is easy.
With 14.8 cubic feet of cargo space, there is enough room for a reasonable amount of luggage.
The ES 350 is well insulated; at cruising speeds, it's extremely quiet, in part due to its acoustic-control laminated windshield.