2012 Lexus LFA Introduction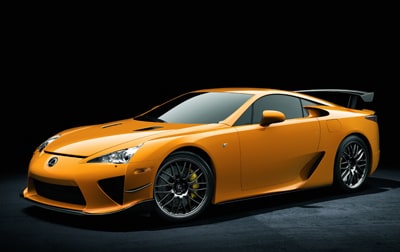 Lexus has been working on the Lexus LFA supercar for more than a decade. They even raced it in the Nurburgring 24-hour in 2008 and 2009. In some ways it's brilliant and in other ways curious. For starters, the heart of the matter, the V10 engine that was designed just for the LFA, is incredible.
But who are they trying to kid? The second sentence of its introduction material says the LFA "single-handedly creates new boundaries to redefine the supercar for the 21st century." New boundaries in hype maybe. Compared to other supercars, stat-by-stat and dollar-for-dollar, the LFA comes up short.
By redefinition Lexus must mean that the LFA is in a world of its own because you can buy matching luggage for it, and you can get it in Passionate Pink with lavender leather seats.
The bespoke engine is a 4.8-liter V10 that's smaller and lighter than the 2.5-liter V6 in the Lexus IS250 sedan. Titanium rods and valves. It makes 552 horsepower and 354 foot-pounds of torque and revs to a screaming 9000 rpm. Its 10 electronic throttle bodies can blip the low-friction engine from idle to 9000 rpm in 0.6 seconds. It sounds sensational from the sidewalk. Lexus calls it a high-octane soprano and we'll go along with that, whatever it means.
For the occupants, intake and exhaust noise is piped through three separate tunnels into the cabin, and the sound sends chills up your spine. A tremendous amount of time and engineering effort went into that feature. We can only wonder how spectacular a V12 mid-engine Lamborghini Aventador must sound.
The compact size of the engine opened the door to chassis opportunities. Carbon fiber is used in the cage around the cabin, contributing to a light weight of 3263 pounds, 209 pounds less than the Mercedes SLS AMG and 463 less than the similar Audi R8, but 221 pounds heavier than the super lightweight Ferrari 458 Italia.
The most innovative thing about the Lexus LFA might be its carbon-fiber reinforced plastic (CFRP) technology. Many parts and methods of joining metal to carbon fiber were devised and employed, thanks to Toyota's Rumpelstiltskin-like resources, its "legacy of weaving and loom-making experience." The chassis mixes carbon fiber and aluminum for rigidity, light weight and safety, notably a forward carbon-fiber crash box. Lexus calls it a Fuji Structure, for the similarity of its triangular profile with that of Mount Fuji.
The Lexus V10 uses a dry sump oiling system, allowing the engine to be dropped below the level of the front wheels and pushed back for better balance, and rear-mounted transmission and radiators help to achieve a 48/52 weight distribution, remarkable for a front-engine car, balance that contributes to its stable cornering, which we discovered during hot laps at Infineon Raceway near Sonoma, California.
Carbon ceramic brakes, with six-piston calipers and giant 390mm (15.4 inches) rotors in front, haul the car down from 202 mph, a speed we did not reach. Maybe we'll reach that speed at Monza when we go there to test the Ferrari Enzo, in our dreams.
The interior is as complete and comfortable as a luxury car, and the driver's space is a compartment, not merely a seat. There are four electronic modes for driving: Auto, Sport, Normal, and Wet, and no less than 7 speeds for the transmission shifts.
The LFA's weak link is its electro-hydraulic 6-speed sequential automated transmission, same as the Audi R8. It's not as fast, smooth or technically sophisticated as the 7-speed twin-clutch gearboxes in the Mercedes SLS AMG, Ferrari 458, or Porsche 911. The shifts are slow and harsh, compared to a twin-clutch.
Lexus is a latecomer to the supercar game, and evidently presumptuous about its position. There's no reason the LFA should cost $217,000 more than the V10 all-wheel-drive mid-engine Audi R8, for example; or twice as much as the Mercedes SLS AMG, which has more horsepower and torque; or $135,000 more than the mid-engine Ferrari 458, with more performance all-around; or the same as the Lamborghini Aventador, with a 700-horsepower mid-engine V12 and a full carbon-fiber chassis, not to mention a lightning-fast transmission and top speed of 217 mph, for those track days at the Bonneville Salt Flats.
But the LFA is all about the target buyer. It's the second or third Lexus in the driveway for super-rich guys, as much as it is a purebred uber-high-performance car for super-rich car guys. Lexus plans to build 500 of them in the next two years. Each LFA will be custom-built to the buyer's styling tastes and desires. A selection of 30 paint colors and 12 interior tones is what you might expect in a Lexus supercar; but Lime Green and Passionate Pink, with lavender leather, is not quite what you would expect. This direction takes some of the bloom off its hard-working and mostly brilliant engineering.