2012 Lexus LS Introduction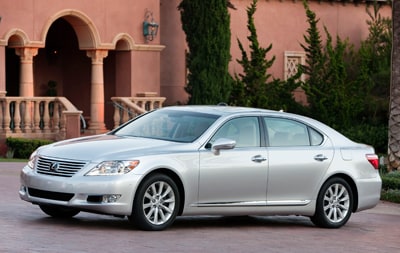 The Lexus LS is a practical luxury car, extremely quiet and extraordinarily smooth underway, easy to drive and operate. The Lexus LS is available in standard LS 460 and long-wheelbase LS 460L and LS 600h L versions, with rear-wheel drive or all-wheel drive. Buyers have the choice of V8-powered LS 460 or LS 600h L hybrid powertrains. The 8-speed automatic, found on all non-hybrid models, helps keep fuel economy reasonable.
The Lexus LS lineup is oriented more to a luxurious, smooth ride than sporty handling. Still, the LS is no slouch in the performance department. The 4.6-liter V8 found in the LS 460 launches the car from 0-60 mph in a mere 5.4 seconds, according to Lexus, yet it gets an EPA-rated 24 mpg Highway. The 8-speed automatic is smooth and the electrically powered steering system adjusts according to speed. Ride quality is exemplary, and handling is perfectly capable. The rear-wheel-drive Lexus LS 460 offers a Sport Package that adds an aero kit, sportier suspension, brakes, wheels and tires, as well as different upholstery.
The Lexus LS 600h L employs a hybrid powertrain using a 5.0-liter V8 and electric motors rated at 438 total horsepower mated to an electronically controlled Continuously Variable Transmission (ECVT). The LS 600h L delivers EPA fuel economy ratings of 19/23 mpg City/Highway. The LS 600L is all-wheel drive and rides on the long wheelbase.
All-wheel drive models use a Torsen limited-slip center differential to distribute torque between the front and rear tires. Normally, the front-to-rear torque split is set at 40:60 but it can vary between 30:70 and 50:50 depending on driving conditions. The bottom line is stable traction in any conditions.
The 2012 Lexus LS 460 Sport Special Edition includes everything found on the sport package plus navigation and a unique two-tone black and topaz beige interior.
The Lexus LS competes with full-size luxury sedans such as the Mercedes-Benz E-Class and S-Class, BMW 5 Series and 7 Series, Audi A8 and Jaguar XJ. Compared to those cars, the Lexus is more affordably priced while also offering top levels of quality, dependability and reliability. Those looking for luxury and value who are willing to sacrifice cachet might consider the Hyundai Equuis. Those considering the LS 600h hybrid model should also look at the Mercedes-Benz S350 Bluetec diesel, the Mercedes-Benz S400 Hybrid and the BMW 7 Series hybrid.