2012 Lexus RX Introduction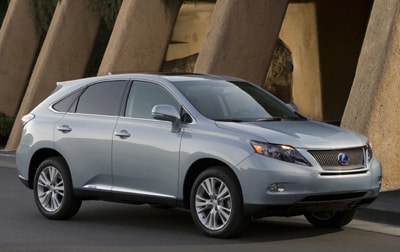 First launched as a 1999 model, the Lexus RX was most recently redesigned and re-engineered for 2010. Changes since have been minimal. Most significantly, the 2012 RX 350 has been tuned to run on regular unleaded (87 octane) fuel. Premium (91 octane) is recommended for the 2012 RX 450h.
(For 2013, Lexus RX models will feature revised styling and new interior materials. The 2013 RX is expected to go on sale summer 2012. The 2013 version won't be that much different from the 2012 except in terms of its appearance.)
The 2012 Lexus RX 350 and RX 450h are easy to operate and ride more softly than other SUVs. They're also more fuel-efficient than many of their competitors.
Powered by a 3.5-liter V6 mated to a 6-speed automatic multi-mode transmission, the RX 350 beats the fuel economy ratings of the Acura MDX, Mercedes ML 350, and BMW X5 xDrive3.5i. The RX 450h hybrid gets better mileage yet, and achieves a Super Ultra Low Emissions Vehicle (SULEV II) certification in California, and a Tier 2-Bin 3 emissions rating in all other states.
The 2012 RX 350 and RX 450h are offered with front-wheel drive or all-wheel drive. The RX 350 uses a light-weight all-wheel-drive system that operates through an electronic coupling on the rear differential, eliminating the need for a center differential. The RX 450h uses an electric motor to drive the rear wheels so no mechanical connection between the axles is needed.