2012 Lexus RX Summary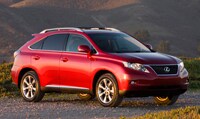 The 2012 Lexus RX is exceptionally quiet and sumptuously comfortable. It boasts a long list of safety features, and its electronic accessories are at once entertaining, sophisticated and user-friendly. The RX 350 is a good choice for people who don't tow or need to move more than five people at a time. The RX 450h offers all that, plus the greater fuel efficiency and environmental friendliness of a hybrid. The RX is being revised for 2013, so look for deals on 2012 models.
NewCarTestDrive.com correspondent John Stewart filed this report from southern California. John F. Katz also reported from south-central Pennsylvania.