2012 Mazda 5 Introduction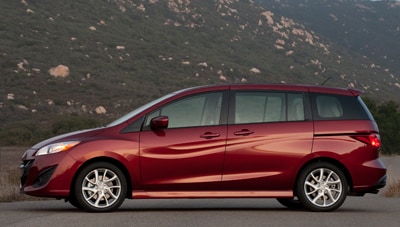 The 2012 Mazda 5 is an all-new model. For 2012, Mazda 5 has been redesigned inside and especially outside, where it uses Mazda's Nagare, or flow in nature, design, the first Mazda to be designed using this philosophy.
The Mazda 5, a small, six-seat, front-wheel-drive minivan, currently resides in a class of one, since no other manufacturer offers a minivan in this size class (although the Ford C-Max will be coming along later in the 2012 model year). For comparison purposes, Mazda uses the Honda CR-V and the Toyota RAV4, which are not true minivans, since they don't use sliding doors as the Mazda 5 does, and are generally $2400-$2800 more expensive.
Using the patented Mazda upside-down pentagon grille up front and the Nagare or flowing design up over the front fenders and down the sides, the 2012 Mazda 5 has been made to look much, much bolder and sportier than its predecessor, without the slab-sided approach usually reserved for minivan bodies. The body has been reshaped with sculpted sheetmetal, a severely laid-back windshield, with a rear roof spoiler on the Grand Touring version. The body has a remarkably low coefficient of drag for a minivan, 0.30, which helps with wind noise.
The new grille, hood, fenders, lamps, bumper and air intakes up front complement new body-colored door handles and mirrors, new taillamps, a mechanically operated liftgate, and new 16- and 17-inch wheels. Underneath, there's a redone suspension that takes a lot of the body roll of the previous model out, and an improved disc/drum braking system.
Under the hood, there is a single engine choice, the same 2.5-liter double-overhead-cam 16-valve four-cylinder engine that powers the Mazda 3, with variable valve timing to give it low-rpm torque and high-rpm horsepower. The engine is rated at a modest 157 horsepower and 163 foot-pounds of torque, five horsepower and 15 foot-pounds more than the previous 2.3-liter engine provided, and one more mile per gallon on the highway than the 2.3.
The interior layout of the new Mazda 5 is unusual in that it provides three rows of two seats each, with bucket seats in front, so-called captain's chairs in the second row, and a split folding bench seat in the third row, where the smaller kids and dogs will reside. All the seats have been redesigned to offer more long-trip comfort and durability.
But this is an economy minivan with a starting price under $20,000, so there is no blind-spot warning system, adaptive cruise control, or any of the other higher-priced safety gear. Nor is a built-in navigation system available, since Mazda believes most young family buyers will opt for a portable Garmin, Magellan or other stick-on system.
The Mazda 5 was last offered as a 2010 model. There was no 2011 model, in preparation for this all-new 2012 second-generation Mazda 5.