2012 Mazda MX-5 Miata Summary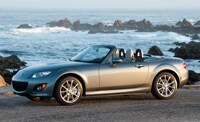 This Mazda MX-5 Miata remains a car to love, delivering what the English sports cars of the 1950s and '60s promised but never quite managed: A delightful, capable, well-engineered driving experience in a vehicle that starts every time and runs seemingly forever, with near-faultless quality and reliability. Its optional retractable hardtop is ingenious, and extends the MX-5's appeal. The Miata formula has been copied, but measured by all-around capability and grin-per-mile factor, it hasn't been surpassed.
NewCarTestDrive.com correspondents Tom Lankard, J.P. Vettraino and Laura Burstein contributed to this report.