2012 Mazda MX-5 Miata Introduction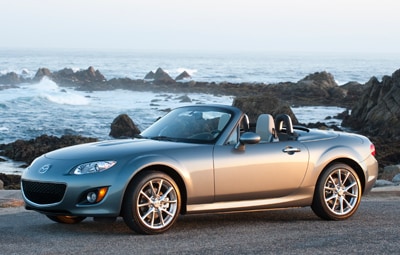 The Mazda MX-5 Miata is what a sports car should be: a two-seat roadster with rear-wheel drive that's fun on the street and can be driven to a race track. It's attractively priced, easy to maintain and won't break you at the gas pump. The MX-5 is a superbly engineered sports car when it comes to acceleration performance, brakes, gearbox, suspension, and cornering.
The Mazda MX-5 rewards its driver with loads of satisfaction and excellent value. It remains the standard by which affordable sports cars are judged. With a weight distribution of 51 percent over the front wheels and 49 percent over the rear, the MX-5 offers wonderful agility and balanced handling.
Believe it or not, it's been 23 years since the introduction of the Mazda Miata. Yet in nearly a quarter of a century, the character of the MX-5 has not changed. Although Mazda has improved it and updated it over the years, its spirit remains intact. And it will still leave its drivers grinning.
The 2012 MX-5 has been upgraded with traction and stability control as standard equipment. For 2012, there's also a new MX-5 Special Edition model limited to 450 units. It's a top-of-the-line model available in red or white, with a black power-retractable hardtop and black 17-inch wheels. The 2012 MX-5 Special Edition loaded with features, including a limited-slip differential and a sport-tuned suspension with Bilstein dampers.
The current-generation MX-5 was launched as a 2006 model; the retractable hardtop version joined the line as a 2007.
The Mazda MX-5 is powered by a 2.0-liter four-cylinder engine that makes 167 horsepower with the manual transmission or 158 hp with the automatic. Both powertrains are good for 140 pound-feet of torque. Fuel economy is average, with an EPA-estimated 22/28 mpg City/Highway for the 5-speed manual. The automatic and manual 6-speed transmissions achieve 21/28 mpg City/Highway. While economy cars get better fuel economy, driving a Miata is way more fun than driving a front-wheel-drive compact.
Roof choices on the MX-5 include a simple vinyl top, which operates manually, or a Power Retractable Hard Top (PRHT), which features a composite roof that lowers in seconds at the touch of a button. The hard PHRT offers reduced wind and road noise over the soft top, as well as increased security and a sense of solidity. But drivers concerned with curb weight should note that it does add about 80 pounds to an otherwise very light car.
A variety of MX-5 models, along with two suspension setups and dozens of dealer installed options and accessories, allow for plenty of personalization. Track-day warriors might opt for the model with cloth upholstery, manual air conditioning, a simple stereo, and a 5-speed manual transmission, while those looking for a more luxe experience might choose leather upholstery, automatic climate control, the automatic transmission, and the upgraded Bose audio system, which remixes sound in real time to compensate for ambient noise with the top down.
It's tough to name any direct competitors to the 2012 Mazda MX-5 Miata. This car offers the fun of more expensive roadsters such as the BMW Z4, but without the price tag. Size-wise, the MX-5 has an edge over the Mini Cooper Convertible and the Fiat 500C. But for the price, enthusiasts might also want to look at the Ford Mustang V6 convertible, which offers track-worthy performance with larger dimensions. Those who aren't attached to a topless sportscar might also consider the Scion FR-S or Subaru BRZ.