2012 Mercedes-Benz S-Class Introduction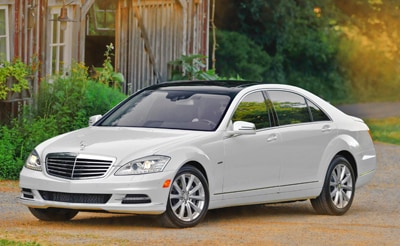 The 2012 Mercedes Benz S-Class remains the prototypical full-size luxury sedan, and the complete luxury package. It's suitable for quiet, rock-steady cruising at Autobahn mega-speeds, spirited drives through the countryside, unflustered dawdling through heavy traffic or chauffeured escape from the grind. S-Class safety systems are unparalleled, and this sedan is huge inside.
The 2012 S-Class introduces some substantial changes. Among them: three new engines and a redesigned 7-speed automatic, all intended to improve fuel economy while preserving the requisite power and verve. However, the biggest news for 2012 is introduction of the first diesel-powered S-Class for North America since 1996.
The S-Class competes with the Audi A8L, BMW 7 Series and, to a lesser extent, the Lexus LS, but the S-Class offers more model choices than any of those other models. The sport-tuned S63 AMG matches up with BMW Alpina B7, and the smaller but sportier-handling Maserati Quattroporte, Porsche Panamera and Aston-Martin Rapide. The S65 makes a less-ostentatious (and faster accelerating) alternative to Bentley's Flying Spur Speed. Mercedes offers the most engine choices in this class, and optional 4MATIC all-wheel drive.
The 2012 Mercedes-Benz S350 BlueTEC is powered by a high-tech, low-emissions 3.0-liter turbo-diesel V6. It's arguably the smoothest, quietest diesel engine ever, almost imperceptible from the driver's seat, and its 455 pound-feet of torque allow the Mercedes-Benz S350 to scoot from 0-60 mph in 7 seconds. Based on the EPA's projected ratings of 20/31 mpg City/Highway, the S350 BlueTEC beats the next highest mileage car in this class by 20 percent (including a couple of hybrids), and that's with 4MATIC all-wheel drive as standard equipment.
The 2012 Mercedes-Benz S400 Hybrid combines a gasoline V6 with an electric motor for nearly 300 horsepower, powering the car to an electronically limited top speed of 130 mph, and surpassing all but the new BlueTEC diesel in fuel economy. This mild hybrid won't run strictly on electric power. The motor assists the gasoline engine to conserve fuel and converts braking energy into electricity to power accessories The S400 Hybrid is EPA-rated 19/25 mpg.
The 2012 Mercedes-Benz S550 gets a new, smaller twin-turbo V8, with more power (0-60 mph in 5.4 seconds), better mileage and optional all-wheel drive. The S600 is the most luxurious S-Class, powered by a 536-hp, 5.5-liter twin-turbo V12 fitted with a 5-speed automatic.
The S63 AMG is finished by the in-house tuning department with appearance tweaks, 20-inch wheels and firmer sport suspension. The 2012 S63 AMG is powered by a 5.5-liter twin-turbo V8 generating 536 horsepower and 500 lb-ft of torque. It also features a unique clutch-operated 7-speed automatic. The S65 AMG is AMG's treatment on the V12 S-Class, with a 6.0-liter engine delivering 621 horsepower and 738 lb-ft of torque. It's one of the most powerful four-door cars in the world.
The S600 V12 and the S63 AMG are both a second quicker than the S500, while the S65 AMG is quickest of all (0-60 in 4.2 seconds). Approaching its 186-mph speed limiter, the S65 is still pulling like a freight train.
We've found all the S-Class models handle well for big luxury sedans. They are composed, responsive and stable at any speed. The Airmatic air suspension system has both automatic and manual controls for ride height and firmness. The transmissions offer multiple operating modes, for best comfort and economy or maximum driver involvement and performance, while brakes bred for the Autobahn have massive reserves at more pedestrian American speeds.
Technophiles may revel in the best night vision system on the market, cruise control that will maintain following distance up to 125 mph or stop the car automatically, and seats that massage, cool and self-inflate under lateral loads. Even the least expensive model comes with everything most buyers want, including a navigation system and a high-grade, high-watt harman/kardon surround system with all the right hardware.
Inside, occupants are surrounded by wood, leather and finishes befitting an expensive car, not to mention serene quiet at cruising speeds. The trunk is one of the largest in this class, and perfectly shaped for maximum storage, and the rear seat is truly expansive. It's also loaded with standard niceties, including lit vanity mirrors, ambient lighting and multiple air vents. The rear cabin can also be upgraded with adjustable, ventilated seats and a killer two-screen video system.
The S-Class rolls near the tip of the luxury pyramid, at a premium but largely justifiable price. Whether you prioritize hybrid cleanliness or incinerating power, its general air of superiority makes a compelling argument to anyone shopping a true luxury sedan.